Wimbledon is considering the implementation of a new rule that will deter players carrying injuries from participating in order to get guaranteed prize money.
In less than 45 minutes, both Roger Federer and Novak Djokovic's opponents in their first round Wimbledon matches on Tuesday (4 July) — Alexandr Dolgopolov and Martin Klizan respectively — had to retire through injury, frustrating fans at Centre Court.
It meant that there were now a total of eight retirements in the Grand Slam already with the second round yet to be completed.
With the ATP Tour trialing a new rule to help avoid such a scenario, a source close to the All England Club told The Times that the trial is being closely monitored and that it could be included in the Grand Slam rule-book in the future.
The new ATP rule means players would be allowed to collect their prize money if they withdraw shortly before an event, allowing another player, such as a lucky loser, to replace them.
The prospective new rule is something 18-time Grand Slam winner Federer is fully in support of as he was left frustrated by yesterday's match that was abandoned following Djokovic's match.
"A player should not go on court if he knows he should not finish," Federer said. "The question is, did they truly believe they were going to finish? If they did, I think it's OK that they walk on court."
"Otherwise, I feel they should give up the spot. The ATP has adjusted its rule. But maybe the slams should have a look at what they could do for the players to make it just a little bit easier.
"When I went out, I felt like there was a bit of a letdown from the crowd. They couldn't believe that it happened again, exactly the same situation."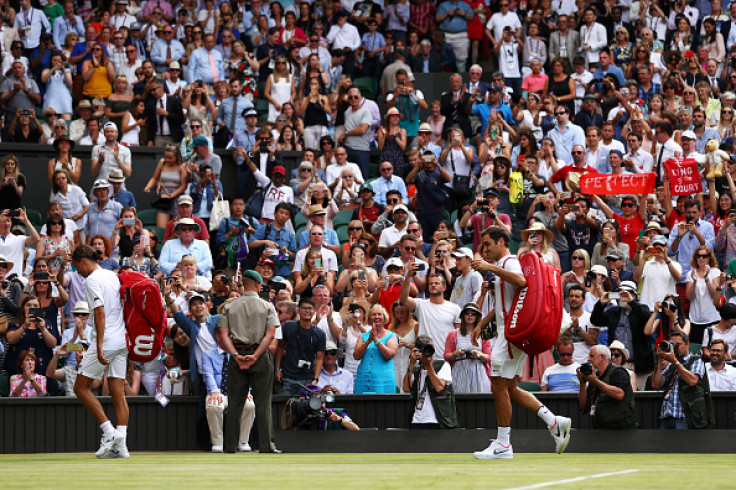 Djokovic also agrees that the Grand Slams should implement this rule as it would also give other players a chance to take part.
It's a fair point," Djokovic added. "Maybe it should be addressed. The new rule that the ATP has reinforced allows players who have made it to the grand-slam main draw to get what they deserve, but on the other hand it allows someone else to play if they can. I support that kind of rule."
Tennis legend John McEnroe was another to express his frustration following Dolgopolov's retirement before adding that a rule must be in place to combat this situation.
"There's got to be a rule for guys who come out clearly not giving or able to give 100 per cent," he explained, as quoted on The Express. "It's no good for anyone. Ultimately the player needs to be given advice and made to understand what he is doing to his own reputation and to the sport.
"There has to be a combination of people to sit him down and give him a way out so he can respect that. There are guys waiting in there, the lucky loser will be looking at this match and thinking he could have played on Centre Court at Wimbledon."