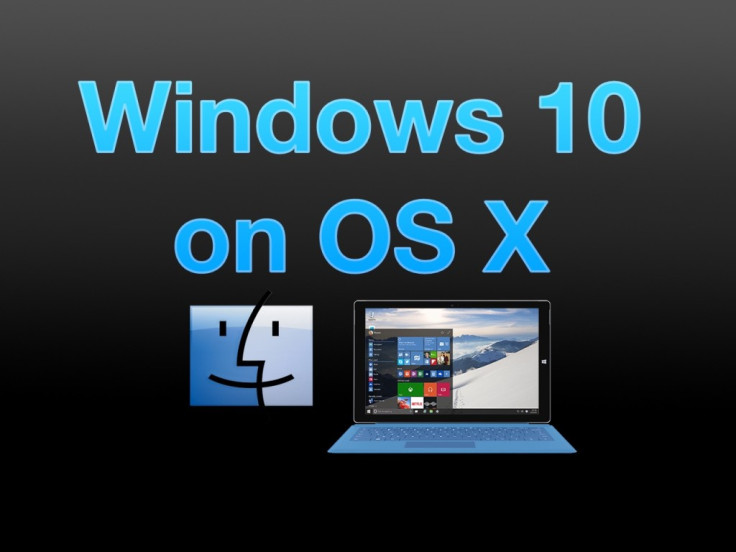 Mac OS X users are in for some great news, as it is now possible to install Windows 10 Technical Preview on Mac in less than 15 minutes using VMWare Fusion.
Windows 10 brings a plethora of new features like Cortana voice assistant integration, improved multitasking, Xbox App, and a host of Continuum enabled features including new Action Center with enhanced notifications.
Those who wish to upgrade their PC with Windows 10 Technical Preview (build 9926) via Windows Update can follow our step-by-step guide posted here or perform a clean install for Windows 10 Technical Preview (any build) via ISO image using our guide here.
Mac OS X users can follow the step-by-step guide provided below to install Windows 10 Technical Preview via VMWare Fusion:
Downloads Required
Windows 10 Technical Preview ISO
Preliminary Steps
Step 1: Download the Windows 10 preview ISO file from the given link and save it on your Mac's desktop. Note: Ensure that you are enrolled for the free membership to Windows Insider Program, in order to get free Windows updates from Microsoft website.
Step 2: Download VMWare Fusion on your Mac and mount the DMG file by double-clicking it.
Step 3: Launch the VMware Fusion.app by double-clicking on it and then click Open to begin the installation process.
Step 4: You will be prompted to enter your administrator password, just enter it and click OK.
Step 5: Select the radio button next to "I want to try VMware Fusion 7 for 30 days." and then click Continue.
Step 6: You can type in a fake email address, and click Continue, unless you really want to receive emails from VMware.
Step 7: A message prompt will ask your administrator password again, enter the password and click OK.
Step 8: Uncheck the box: "Yes, I would like to help improve VMware Fusion." and then click Done.
Installing Windows 10 on your Mac OS X virtual machine
Step 1: Choose Install from disc or image and click Continue
Step 2: Click the Use another disc or disc image... and go to your Mac's Downloads folder. You will find the Windows10_TechnicalPreview_x64_EN-US_9926.iso file there, just click Open and then Continue.
Step 3: Select Customize Settings and click Save to save the .vmwarevm file to your ~/Documents/Virtual Machines folder.
Step 4: Click Processors & Memory and choose at least 4 processor cores from the top drop-down box. For instance, if you have 8 processor cores on your Mac, then choose 4. Otherwise, If you only have 4, then select 2.
Step 5: For Memory, it is advisable to use at least a quarter of the available memory on your machine. For example, if you have 16GB of memory, you should set the Memory settings to 4096MB or 4GB.
Step 6: Click the Show All button and click Hard Disk. Set the Hard Disk space to a recommended minimum of 40GB, preferably 60GB.
Step 7: Once the Hard Disk settings are configured, click the red 'x' button in the upper right-hand corner to close the customization options.
Step 8: Hit the Play button to begin the Windows 10 Technical Preview installation.
Step 9: Click Next on initial Windows Setup page and click Install Now.
Step 10: Select the checkbox next to "I accept the license terms" and click Next.
Step 11: Choose Custom: Install Windows only (advanced) and click Next.
Step 12: The Windows installation process starts and Windows will copy files, prepare files for installation, install feature, update, and finally, finish up the install process. Please be patient, as it may be time-consuming depending on your machine's specs.
Step 13: Windows will restart a couple of times before entering the setup screen. It is recommended to Use express settings from this screen.
Step 15: Enter the account information like User name, and password; once done, click Finish
Step 16: Windows will continue to configure the setup and install apps, and then it will reboot to the desktop after completing the process.
Installing VMware Tools
In order to finalise the settings for Windows 10 installation, you should install VMware Tools. This toolkit contains the necessary drivers and settings to complete the installation, and ensure a stable working environment on your Mac along with the best resolution settings for your display.
Step 1: To install VMware Tools, select Virtual Machine > Install VMware Tools via menu bar
Step 2: Click the Install button when a pop-up box appears on screen
Step 3: Launch Windows Explorer, choose the DVD Drive, and double-click on the setup64 file
Step 4: Choose Yes on the User Account Control pop-up box
Step 5: Click Next on the VMware Tools Setup screen
Step 6: Choose Typical setup and click Next
Step 7: Click Install to begin the VMware Tool installation
Step 8: Hit Finish once the setup wizard is completed
Step 9: Finally, click Yes when prompted to restart your system
Step 10: Your virtual machine installation setup will restart, and Windows 10 will reboot for the last time, before you can use it.
For further assistance, check out the video tutorial below:
[Source: iDownloadBlog]