Technology editor David Gilbert picks his top five features of Microsoft's latest update to Windows 8.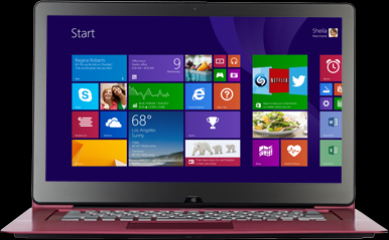 Microsoft has listened. One year on from launching the most radical overhaul of its desktop operating system it is back with a major update which brings with it some new features it has implemented after listening to customer feedback.
There are dozens of updates in Windows 8.1, but I have picked out just five which I think make the system feel like a much more finished OS than it had been, including some which will make it much easier for those used to the traditional Windows environment to feel at home.
Start Button
The first thing most people who upgraded to Windows 8 noticed was obviously the completely new interface. But the traditional desktop was still there underneath it all, but lacking one crucial element - the Start Button.

It may only seem like a small detail, but it would have been a crucial link for people used to the traditional Windows environment as they transitioned to the new tiled interface.
Microsoft has relented and in Windows 8.1 has introduced a new, redesigned Start button in the bottom left-hand corner of the desktop.
Pressing or clicking on it will bring you straight back to the new tiled start screen while right-clicking it will bring up a menu similar to the traditional start menu you will have been used to in Windows 7 and previous iterations of Microsoft's OS - including access to the control panel.
Set desktop as background across system
This is only a small detail but one I think will make a big difference for people finding it hard to acclimatise to the new interface structure. This new setting lets you automatically assign the same back to your desktop and Start screen.
What it means is that, if like me, you are switching between both views constantly there will no longer be the jarring impact of seeming as if you are in two completely different parts of the system. It now looks like the Start screen tiles just float on top of the desktop.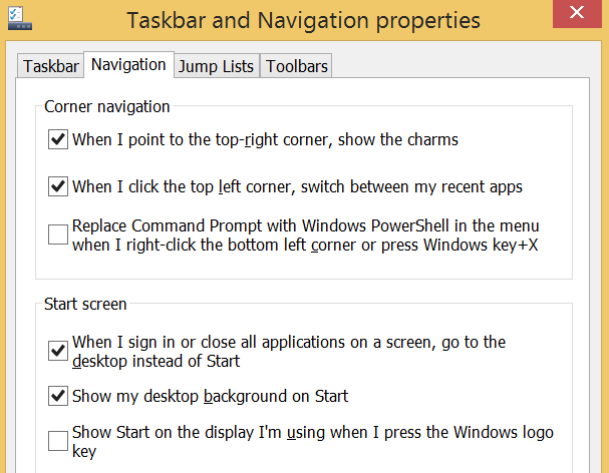 To implement the setting, call up the Taskbar menu when in desktop mode by right-clicking on the taskbar and click Properties. Here just click the "Show my desktop background on Start" dialog box in the Navigation tab.
Boot to Desktop
Another one for those looking for a more traditional desktop feel for Windows 8. In the same Taskbar menu in which you synced your desktop and Start screen backgrounds you can click a dialog box marked:"When I sign in or close all applications on a screen, go to the desktop instead of Start"
It means that if you find yourself going to the desktop all the time when you start your laptop or desktop, then you'll be able to do it automatically from now on.
I find I do it most of the time as Chrome is not available as a Windows 8 app so I have to launch it from the desktop meaning that's the environment I am in most of the time,
Photo editing
Windows 8.1 does a great job of integrating SkyDrive into most applications and where this is a big bonus is with photos. Despite not using a Windows Phone smartphone, I backup the photos I take on my Android smartphone using the SkyDrive app.
Therefore when I sign into a Windows 8.1 device all my photos are accessible. What's new in the photos app in Windows 8.1 is much better editing capabilities.
From basic editing tools like cropping, rotating and red eye reduction to much more creative tools allowing you to alter the colour temperature of the entire image or even pick a particular colour and increase or decrease the intensity of that colour. You are also able to re-orientate the point of focus on your image as well as alter the lighting effects such as contrast and brightness.
All changes are done using a neat little control dial, giving you a very accurate and fast way of controlling the editing process. While it is clearly optimised for touch, it is just as easy to use with a mouse
Yes you can get an older version of Photoshop for free from Adobe these days, but the way Microsoft has integrated these editing tools into the photos app is mire intuitive and means all your photos can be easily accessed and shared once edited
Bing Smart Search
Possibly my favourite update is the way Windows 8.1 handles search. Just start typing while on the Start screen and you will automatically begin a search - or more accurately a Bing Smart Search.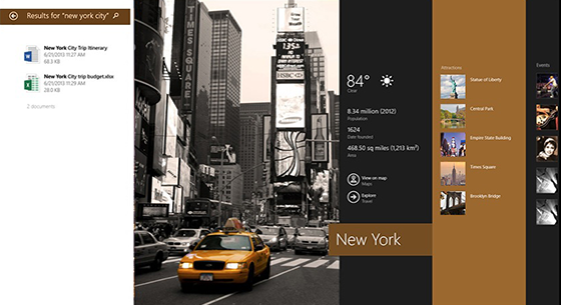 Microsoft has unified local and online search meaning what you are returned a beautiful, curated search results page. For example, search for David Beckham and you are presented with a rich media result of images and text, video and links to news articles and websites.
The results page draws in details from the likes of Wikipedia to give you personal details like date of birth and even personal wealth. Scroll across to the right and you will see images and videos, and if you are searching for a musician or band, you will get direct links to their music in the Xbox music app.
Scroll further and you will get results from the News and the web (from Bing by default), though rather than a list of links you get a thumbnail of the website and a few lines on what to expect on the page.
It is a much more sophisticated system than you get on Mac OS X for example, and while you won't get the rich results for all searches (only for high profile individuals, sports teams, bands etc) the thumbnail results page is still better than a Google search results page.
Another addition to the search ability in Windows 8.1 is the fact that it will now search your SkyDrive photos for text which the system has automatically tagged in your images. While it is a bit scary that it happens without your knowledge, it can be very handy.