Facebook's Winklevoss Twins Invest in Social Network for Professional Investors
The Winklevoss twins, best known for their legal disputes with Mark Zuckerberg over the original concept of Facebook, are once again working on a social network, this time aimed at professional investors.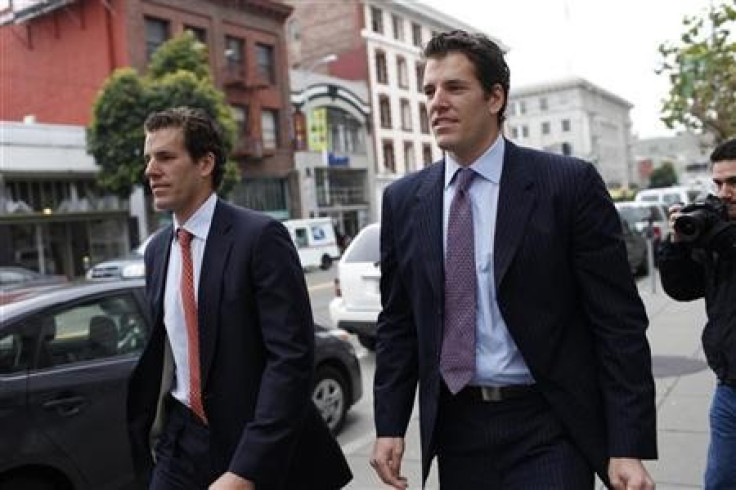 Called SumZero.com, the social network is for "buy side" investors - that is, professionals at hedge funds, mutual funds and private equity firms, not analysts from the "sell side", such as Wall Street banks - and was founded in 2008 by fellow Harvard student Divya Narendra.
The twins, who are both Olympic rowers and competed for America in the 2008 Beijing Olympic Games, have invested $1m (£617,000) into SumZero, according to the Wall Street Journal.
ZeroSum founder and CEO Narendra, 30, was an ally to Cameron and Tyler Winklevoss during their legal dispute with Facebook, which the three claim was created after the concept of the site was stolen from them by Mark Zuckerberg - a story that was dramatised in the 2010 film The Social Network.
The identical twin brothers were awarded a cash and stock settlement valued at $65m in 2008 when Facebook was worth $15bn - the social network is currently valued at $47bn.
SumZero has 7,500 members and aims to "fundamentally change the way the hedge fund industry behaves" and aims to bring together hedge funds to be more social with each other and collaborate together in a secure environment.
The exclusive social network, which costs up to $129.99 per month to join, describes itself as "for the hedge fund community, by the hedge fund community, " with a vision to "grow its core community to tens of thousands of hedge fund analysts globally, sharing thousands of their highest conviction investment recommendations each year."
Narendra reportedly reviews every application from prospective members himself, rejecting around 75 percent of them, and even the Winklevoss twins were not given access to the site until they had invested their $1m to become part owners of it, according to the WSJ
Narendra worked with the Winklevoss twins at Harvard to create ConnectU, a social network aimed at students solely from Harvard, and approached Zuckerberg in 2003 after their original programmer left.
Zuckerberg is claimed to have agreed vocally to work with the twins, but after launching thefacebook.com in February 2004, the twins filed a lawsuit against Zuckerberg for breaking oral contract and allegedly stealing the idea of ConnectU.
The twins settled in 2011 for $20m in cash and a further $45m in private Facebook stock.
© Copyright IBTimes 2023. All rights reserved.