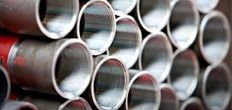 Shares in building materials supplier Wolseley shed more than 4% after the company announced that its European operations continued to suffer from the ongoing economic crisis, despite an improvement in the UK and US businesses.
Wolseley, the world's biggest distributor of plumbing and heating products by sales, reported a 7.9% increase in trading profit for the third quarter ended 30 April to £150m ($229m/€176m). Total revenues improved by 6% to £3.2bn for the quarter. Sales growth was 2.4% on a like-for-like basis.
Revenues rose 12.2% in the US and 11.2% in the UK. Meanwhile, they declined 8.5% in France, 4.2% in the Nordic region and 4% in Central Europe.
The poor performance in Europe dragged down the company's shares. They are trading at 3,217 pence, down 4.17%, as at 10:40am.
"Wolseley continued to make decent progress in the third quarter, with good growth in the USA and the UK offsetting challenging conditions elsewhere in Europe," CEO Ian Meakins said in a statement.
Gross margin remained at 27.9% in line with last year, despite a continuing tough pricing environment. The company noted that it tightly controlled its operating costs and headcount, especially in its weak markets.
"We will continue to pursue operating efficiencies and remain focused on customer service, gaining market share and protecting our gross margins. We will manage the cost base of each of our businesses commensurate with market conditions while executing our growth initiatives in the more robust markets," Meakins added.
Wolseley had earlier announced 1,000 job cuts in the UK and Europe as it sold off several businesses in the region over the past year.
Businesses that are already sold include the French plumbing and heating distribution chain Brossette, the UK builders' trade business Build Center and high street retailer Bathstore. Further, the company is in talks to sell much of its French building materials business.
The disposals are part of the company's strategy to divest its non-core assets to pare with the losses in its European business and reduce its debts. Its net debt stood at £694m at the end of the third quarter, down £177m from the end of the second quarter.