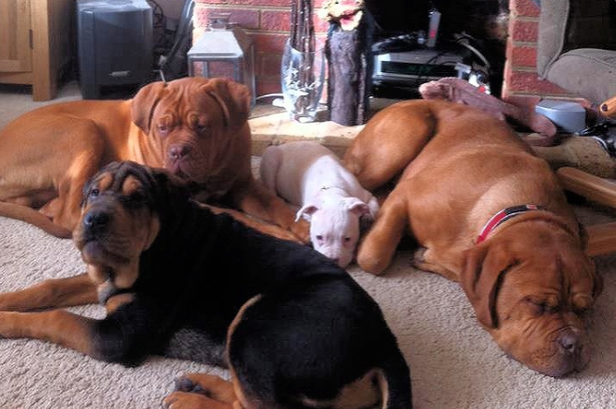 A post-mortem examination is due to be carried out on the body of a woman believed to have been mauled to death by the dogs she was trying to feed.
Gloria Knowles, 71, was found dead with multiple injuries in the back garden of her daughter's home in Morden, south London.
She was reportedly mauled by her daughter Beverley's dogs as she went to feed them. Police were called to the property following the incidents and seized two Bordeaux bulldogs, two American bulldogs and a mongrel.
Knowles had also suffered a heart attack during the incident, although it is not known if she was attacked before or after she suffered a cardiac arrest. She was pronounced dead at the scene.
Scotland Yard said none of the seized dogs are banned breeds and that no arrests have been made.
Neighbours described hearing screaming from the property but believed it was just children playing.
Neighbour Kevin Hamilton told Sky News: "I heard screaming and dogs barking. The screaming was not specific screaming - there were no words in it. It was very much like hysterical screaming - no 'help' or anything like that.
"I thought no more of it, and believed it to just be the kids playing."
A Scotland Yard spokesman said: "We were called at about 6.25pm last night to reports of a woman found dead at an address in Morden.
"An investigation is underway into establishing the cause of death. A post mortem is due to take place at St Georges Hospital Mortuary tomorrow."
A London Ambulance Service spokeswoman said: "We were called at 6.12pm to Rutland Drive in Morden to a patient in cardiac arrest.
"We sent a single responder in a car, two ambulance crews and a duty officer. Sadly, the patient was dead at the scene."