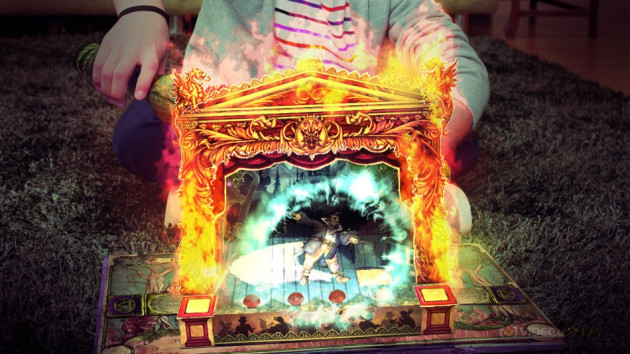 Key Features
Developer: SCE London Studio
Publisher: Sony Computer Entertainment Europe
Platform: PlayStation 3
Release date: 16 November
Price: £64.99 for Bundle (includes PlayStation Move, PlayStation Camera, Wonderbook and Book of Spells game), £24.99 for Wonderbook and Book of Spells game
Wonderbook
Motion sensitive controls are like Bill Wyman, or Rod Stewart: After a hugely successful heyday, and God knows how much money, they've slipped into disfavour and nobody's interested anymore.
The Kinect is notoriously awkward to calibrate and has no good games; nobody even owns a PlayStation Move; and for all its chummy simplicity and former glory, the Wii now lives in everyone's attic, next to the old bags of cement and the tinsel.
It's time for motion controls to move on, as far as the market is concerned. Microsoft is pushing forwards with rumours of its wearable controls and 'Digits' wristband (courtesy of PluggedIn) and even Nintendo is changing tact; the Wii U is movement sensitive, sure, but with the Game Pad and ostensible 'hardcore' games like Zombi U included, it's out with casual one-note sports sims, and in with the new wave. Motion controls are growing up; with games like Zombi U and Fable: The Journey gaining ground over reluctant late adopters, more and more 'core gamers' are looking into motion controls. Exactly where that leaves Wonderbook, Sony's latest Move peripheral, is unclear.
Magical
A big, blue, augmented reality book thing, you plop Wonderbook in front of the PlayStation camera, stick a game in (in this instance, an interactive Harry Potter spell book called Book of Spells) and the Wonderbook comes to life, as it were, changing its on-screen appearance to suit whatever game you're playing.
The magical part is that while dragons and fire are leaping out of the Wonderbook's pages, you can still see yourself sat around it; as far as children and gullible adults will be concerned, the various creepy crawlies and Potter characters leaking out of Book of Spells will be in the room with them.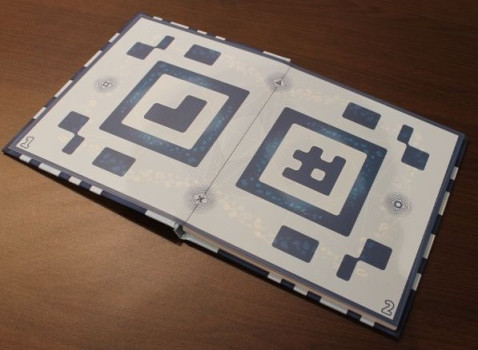 And of course, you can interact with them, too. Book of Spells has five chapters, each featuring four spells for you to learn. There are Potter staples, like Incendio and Engorgio, and some new, more obscure ones to get the hang of. It's all down to how you flick the Move controller. Paint a 'Z' in the air, and you can shoot fire at whichever baddie is creeping out the Wonderbook; make an infinity sign, and you shrink giant scorpions down to size during one of the more intense fight scenes, where the PS camera redecorates your on-screen living room to look like a Hogwarts dormitory. For young Potter fans, it's a new way to enjoy their favourite books; to small children, Wonderbook will be amazing.
Action isn't Book of Spell's only trick, either. With J.K. Rowling on board as co-writer, there are plenty of cute, interactive cutscene bits that expand the Potter universe. Your Move controller can be customised, too; subscribers to the Pottermore website can link their accounts to Book of Spells, so that their on-screen Move controller looks like their custom-made Pottermore wand.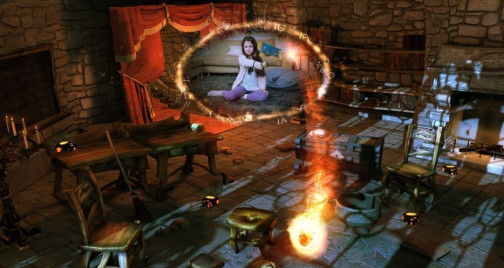 It's fun, and a bit different; with the Wii U and the Kinect still offering motion sensitive gameplay similar to the original WiiMote, Wonderbook is at least a change of scenery. And it has promise: The Rowling material is likely to ship plenty of units from the off, paving the way for the licensing deals that Sony has with Disney and the BBC. Whether in the future Wonderbook will host some more adult or 'hardcore' games remains to be seen; so far, it's a kid's toy.
And that's exactly what Sony wants. With the 12GB Super Slim PS3 now at £185, and Wonderbook itself going for £65 - Move, camera and Book of Spells included - Sony is finally making its run at the family market. On paper, it's a complete package; Gran Turismo and Killzone for dad; ITV Player and Netflix for mum; LittleBigPlanet Karting and Wonderbook for the kids.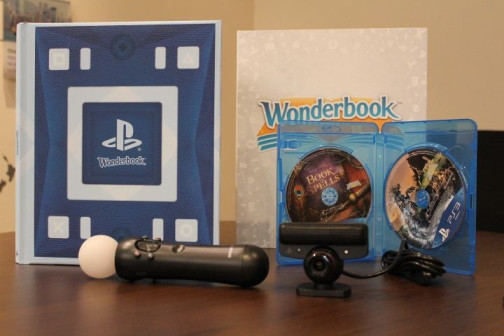 But there might not be a family market left; Nintendo and Microsoft have already carved it up between them. Not only that, but the PS3 has never seen as a rounded console. Instead, it's the high-end, go to machine for quote unquote "serious gamers", who play meaty exclusives like Uncharted and Heavy Rain. Of course, the smaller hard drive and a lower price might do something to alter that reputation, but with the Wii U weighing in at £230, just in time for Christmas, this could just be the year that Nintendo strengthens its grip on the whole family.
That would be a shame; in Wonderbook, Sony has a fresh take on motion sensitivity that will likely do more for kids and their parents than any amount of Wii Bowling or Kinectimals. Sitting down to turn the pages of a new Harry Potter, occasionally chipping in to help with the eye-popping interactive bits, could be a lot more engaging for a parent and their five year-old than just flapping their arms at a barking 360. But even when it was untapped, the family market for computer games was elusive, nebulous and unwilling. Nintendo pulled off a miracle getting it to listen in the first place; on 16 November, when Wonderbook hits stores, Sony needs to go one better.