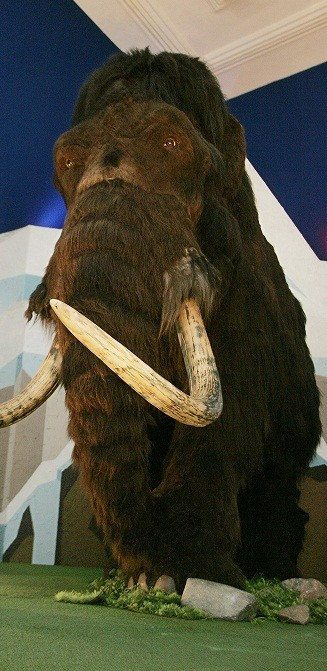 The discovery of well-preserved baby woolly mammoth fossil suggests that early humans could have killed mammoths, according to a BBC report.
Researchers from the University of Manitoba and the University of Michigan have discovered wounds on the baby mammoth fossil - named Yuka - and when they analysed the animal's wounds they found that it was created by both lions and humans. They believe that humans could also be responsible for the extinction of the woolly mammoth.
"Already there is dramatic evidence of a life-and-death struggle between Yuka and some top predator, probably a lion," BBC quoted Daniel Fisher, professor at the University of Michigan, as saying."Even more interesting, there are hints that humans may have taken over the kill at an early stage."
Researchers had analysed the fossil and found that Yuka would be two and a half years old when she died. They also found that Yuka's heels were attacked by Panthera leo spelea, an extinct subspecies of the African lion, that could have killed Yuka or happened very near the time of its death.
Researchers also found huge wounds on the skin created by 15-30 small, sharp tools, the marks of the wounds created by humans were seen on the leg bones and several other areas in Yuka's body.
Researchers believe Yuka's body will give us more insight about pre-historical times. "It's like a diary or journal someone has just handed you - you just haven't had a chance to read it," BBC quoted Professor Fisher, scientist at the Sakha Academy of Sciences in Yakutsk, as saying.
The Yuka mammoth was filmed as part of the BBC and Discovery Co-Production programme Woolly Mammoth: Secrets from the Ice.