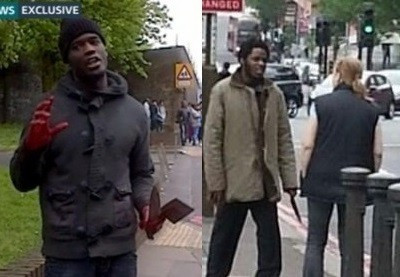 David Cameron held crisis talks with top officials over the alleged beheading of a British soldier by Islamist radicals in Woolwich.
Reports suggest that Whitehall sources have confirmed that the man, who was believed to have been hacked, had served the armed forces.
A man, the alleged suspect with blood-soaked hands, was filmed by a passer-by; the suspect reportedly claimed he had carried out the terrorist attack.
Cameron, who flew back from France, will also lead the government crisis committee Cobra later in the day.
The emergency committee had already convened earlier and the meeting went on for an hour. It was attended by Home Secretary Theresa May, Defence Secretary Philip Hammond, Mayor of London Boris Johnson and Scotland Yard's Police Commissioner Sir Bernard Hogan-Howe.
Cameron said the incident was "truly shocking" while May described it as "sickening and barbaric." Police have confirmed that two men have been arrested in connection with the brutal murder.
The two men were at the scene till the police arrived and were wounded in a shootout, suggest reports. Witnesses from the scene say the victim was hacked by the men who raised Islamic slogans.
"I apologise that women have had to witness this today, but in our land our women have to see the same. You people will never be safe. Remove your government, they don't care about you," one of the alleged perpetrators, says in the video footage broadcast by ITV news.
The counter-terrorist unit is leading the investigation into the "shocking and horrific" incident which has prompted the authorities to beef up security across the capital.
Sir Bernard Hogan-Howe said: "We understand concern about the motivation and we will work tirelessly to uncover why this occurred and who was responsible. I understand people want answers, but I must stress we are in the early stages of investigations. I would urge everyone to remain calm and have a measured response..."