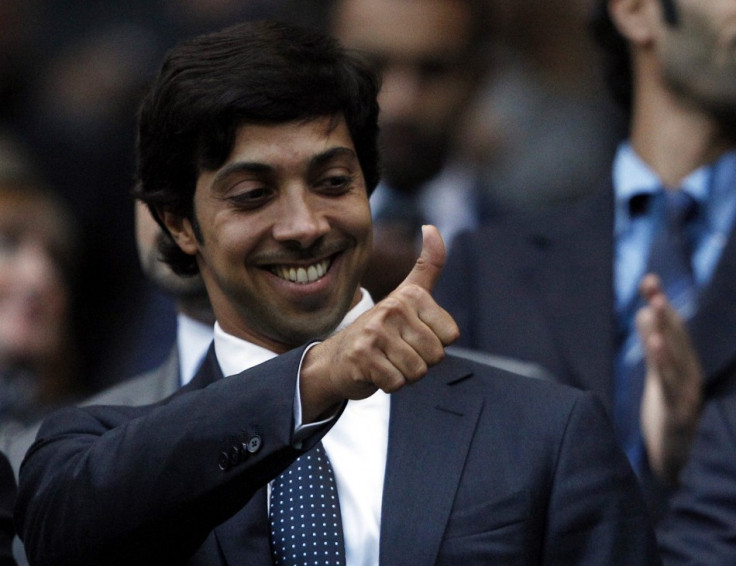 Manchester City have announced losses of £197 million for the most recent financial year, which amounts to the biggest deficit in English football history and surpasses Chelsea's £141 million in 2005.
Since Sheikh Mansour bin Zayed al-Nahyan's takeover of Manchester City in the 2008, he has ploughed an unprecedented £800 million into the club, principally on a host of players and their subsequent wages.
Whilst the investment has made Manchester City a potent force in the Premier League as their five point lead over Manchester United attests, the record breaking loss raises immediate concerns over City's capacity to comply with Uefa's financial fair play rules, which will apply to all clubs in European competitions from the 2014-15 season onwards.
Uefa will analyse top clubs' accounts from this season until the financial fair play rules come to fruition in 2014, and they stipulate that no club is allowed to lose more than €45m (£38.5m) during that three year period.
Manchester City's vast deficit was largely down to their lavish expenditure on players and perhaps more pertinently on their wages, which amounted to £174m, a figure that exceeds their entire turnover by £21m.
Roberto Mancini has spent £156.5m on players alone during the 2010-2011 financial year, which included amongst others Edin Dzekor (£27m), David Silva (£26m), Yaya Touré (£24m), Aleksandar Kolarov (£19m), Mario Balotelli (£24m) and James Milner (£26m).
Manchester City's losses eclipse the £141 million Chelsea posted in 2005, which was Roman Abramovich's second year in ownership at Stamford Bridge.
On releasing the figures, City's chief operating officer Graham Wallace suggested the figures had been predicted and accounted for and the club still intended to comply with Uefa's rulings.
"Our losses, which we predicted as part of our accelerated investment strategy, will not be repeated on this scale in the future," Wallace said. "These financial results represent the bottoming out of financial losses at Manchester City before the club is able to move towards a more sustainable position in all aspects of its operations in the years ahead.
"As we undertake the club's commercial transformation, we are cognisant of the incoming Uefa financial fair play regulations and consequently we continue to maintain positive and ongoing dialogue with all appropriate football authorities."
Manchester City's chief football operations officer Brian Marwood acknowledged the club had work to do in order to adhere to Uefa's ruling, which was brought in as a measure to curb the relentless inflation of players' wages across the continent, but reiterated Wallace's claim that they would eventually be compliant.
"We know that we still have an awful lot of work to do but I think it's exactly where we said we would be in terms of the initial investment." Marwood told the BBC.
"Over a period of time we are fully aware we have to be compliant and there's a lot of work going on to make sure that's achieved."
Khaldoon al-Mubarak, Manchester City's chairman and senior adviser to Mansour, believes reiterated the club will no longer be so relent on their cash-rich owner now that the foundations are in place to succeed on the pitch.
"Now that we are witnessing progress, both on and off the pitch, it is more important than ever to work towards achieving our ambition to establish Manchester City as a more successful, sustainable and internationally competitive football club, which remains rooted in the heart of the community it serves," Khaldoon told The Guardian.
Manchester City's latest figures did not include the riches amassed in this season's Champions League 's, while their coffers will have already been significantly swelled by their controversial sponsorship deal with Etihad Airlines, which is reportedly worth in the region of £400 million over the next decade.
Arsenal boss Arsene Wenger recently took umbrage with City's hugely lucrative deal with Etihad, suggesting it merely distorted a truth in regards to their finances. The Frenchman intimated Manchester City's deal, which was announced in July, made a mockery of the financial fair play rule.
"It raises the real question about the credibility of the financial fair play," Wenger said. "That is what this is all about. They give us the message that they can get around it by doing what they want. It means financial fair play will not come in. It is as simple as that. I can understand how they do it but it raises the real question. The difficulty and the credibility of the financial fair play is at stake.
"Plus, if the financial fair play is to have a chance, the sponsorship has to be at the market price. It cannot be doubled, tripled or quadrupled because that means it is better that we don't do it and we leave everybody free. That can be defended as well, but if they bring the rules in they have to be respected."
In an effort to put a positive slant on some of the figures released by Manchester City today, the Eastlands' club highlighted their 49.7% increase in commercial revenue, which amounted to £48.5 million.
Additionally Manchester City's successes on the field have boosted their TV rights revenues by 27.4%. Their third place finish in the Premier League, FA Cup triumph and run to the last 16 of the Europa League, amounted to £68.8 million, and helped the club post overall turnover of £153.2 million.
Whilst Manchester City's latest finances look alarming, The Guardian suggests club officials are bullish about the future. Citing Manchester United's recent figures which revealed £578m had haemorrhaged from the club since the much maligned takeover of the Glazers in 2005, City argue the £800 million ploughed into their club and its surrounding areas is a mark of progress.