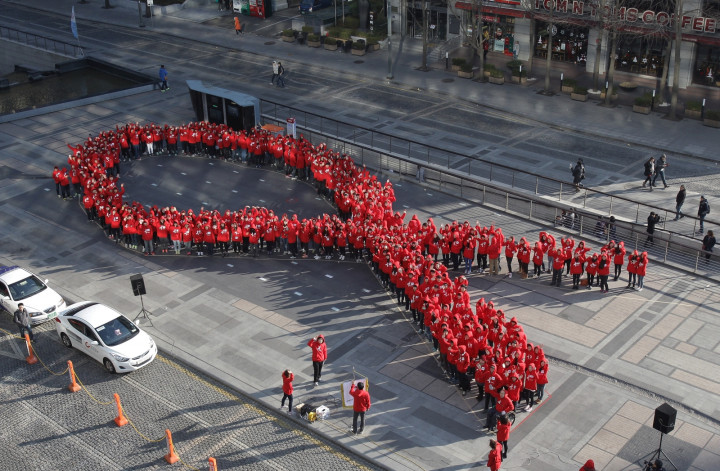 World Aids Day, observed annually on 1 December, is dedicated to raising awareness to the Aids pandemic caused by the spread of the HIV infection.
To date, there are an estimated 35.3 million people living with HIV – human immunodeficiency virus. Between 1981 and 2012, Aids - acquired immune deficiency syndrome – has killed 36 million people worldwide.
This year, the theme is Focus, Partner, Achieve: An AIDS-free generation – to highlight the need to for governments and health officials, NGOs and individuals to address Aids prevention and treatment.
Since 1995, the President of the United States has made an official proclamation on World Aids Day. You can watch a livestream of Obama's 2014 White House event here.
History of World Aids Day
The idea for World Aids Day was conceived by two public information officers for the Global Programme on Aids at the World Health Organisation, James Bunn and Thomas Netter, in 1987.
The history of HIV and Aids in the US began in 1981, when the country recognised a new illness among a small number of gay men. Although it widely accepted that the origin of HIV lies in Africa, the US was the first country to bring the virus into the public consciousness.
With the approval of Dr Jonathan Mann, the former head of the Global Programme on Aids (now known as UNAIDS), the decision was made to hold the day on 1 December. It was thought the day would receive maximum coverage by the western media, as it was after the US elections but before the Christmas holidays.
In 1996, UNAIDS took over the planning and promotion of World Aids Day. The White House began marking the day with a display of a 28-foot Aids ribbon in 2007, as the first symbol to hang on the building since the Lincoln administration.
World AIDS Day is observed on social media with the hashtag #WAD2014.