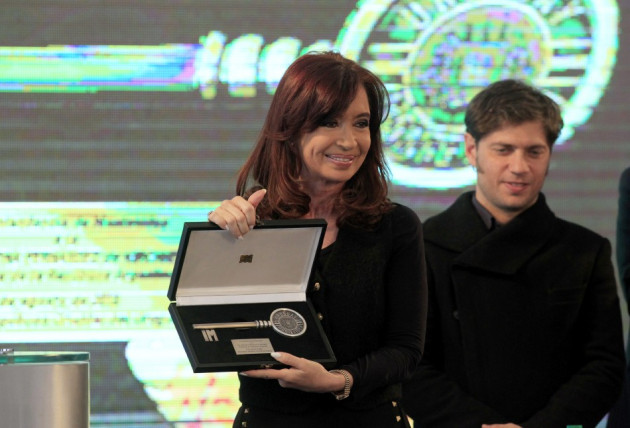 Argentina is on the cusp of resolving disputes with corporations at a World Bank arbitration panel after a report revealed that the country will offer to pay around half a billion dollars for a resolution.
According to The Ambito Financiero financial daily, the payment would be made in sovereign bonds to five companies that filed complaints at the bank's International Centre for Settlement of Investment Disputes.
The Argentinian embassy in London was not available for comment about the story when contacted by IB Times UK.
The decision comes at delicate time in Argentina's battle in US courts with hedge funds that refused to take part in two debt restructurings following Argentina's 2002 default.
The country hopes that president Barack Obama's government will ask the US Solicitor General to present Argentina's arguments to the US Supreme Court as to whether the case merits the court's attention.
A lower court ruled in favour of bondholders who will not accept lower payments from Argentina under a restructuring agreement.
Some US officials and the International Monetary Fund have said they were concerned that if Argentina was forced to pay, it would set a worrying precedent.
It would make it more difficult for cash-strapped nations to restructure their debts in the future.
Who Will Get Money Back?
The Ambito Financiero reports the companies to be paid include France's Vivendi, British electric and gas utility National Grid and Continental Casualty Company, a unit of Chicago-based CNA Financial Corp.
Hernan Lorenzino, economy minister for Argentina is in Washington this week for the IMF and World Bank meetings to unlock the $1.8bn credit lines from those institutions.
In 2002, Argentina had a sovereign debt default that effectively ended the nation's ability to draw on money from the global bond markets.
Falling levels of foreign investment have led to dwindling foreign reserves putting additional pressure on the country's poor finances and economy.
The US suspended Argentina from the US Generalised System of Preferences programme that waives import duties on certain goods from developing countries.
Argentina failed to pay roughly $300m in compensation awards in disputes involving US-based water company Azurix and Blue Ridge Investment.
It was the first time a country had been suspended from the programme for failing to pay an arbitration award.