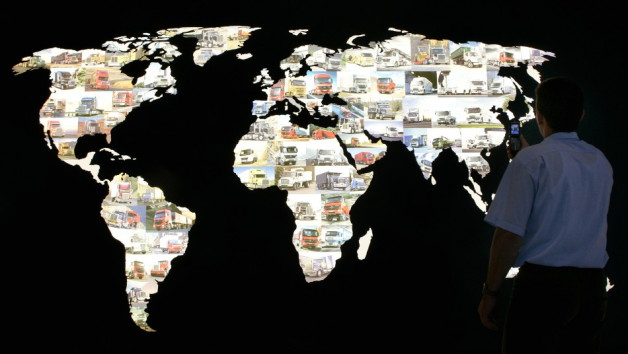 The World Bank has cut its 2013 growth outlook for the global economy citing volatile and sluggish growth in the developed countries.
After recording a 2.3 percent growth in 2012, the global economy is expected to see its GDP growing at 2.4 percent in 2013. The World Bank had projected a 3 percent growth for 2013 in June.
Growth rate would improve to 3.1 percent in 2014 and 3.3 percent in 2015, according to bank's current estimates.
The World Bank noted that the worst is over for the global economy four years after the onset of the global financial crisis, however the economy remains fragile due to the poor performance of high-income countries.
"The economic recovery remains fragile and uncertain, clouding the prospect for rapid improvement and a return to more robust economic growth," World Bank Group President Jim Yong Kim said in a statement.
"Developing countries have remained remarkably resilient thus far. But we can't wait for a return to growth in the high-income countries, so we have to continue to support developing countries in making investments in infrastructure, in health, in education."
High-income countries which recorded a growth rate of 1.3 percent in 2012 are expected to grow at the same rate in 2013. However, growth in these economies is expected to gradually improve to 2 percent in 2014 and 2.3 percent in 2015.
In the Euro area, GDP is expected to contract by 0.1 percent in 2013. Growth is projected to return to positive territory in 2014, edging up to 0.9 percent in 2014 and 1.4 percent in 2015.
In the second half of 2012, the euro crisis worsened and the US faced problems related to central debt and spending issues, which still remain unresolved.
Developing countries, where economic growth has slowed down to 5.1 percent in 2012, will see a growth rate of 5.5 percent in 2013, 5.7 percent in 2014 and 5.8 percent in 2015, the World Bank added.
"The weakness in high-income countries is dampening developing-country growth, but strong domestic demand and growing South-South economic linkages have underpinned developing country resilience - to the point that, for the second year in a row, developing countries were responsible for more than half of global growth in 2012," said Hans Timmer, director of development prospects group of the World Bank.
Nevertheless, the "downside risks of the global economy persist" due to a slow growth in eurozone, debt and fiscal issues in the US, the possibility of a sharp slowing of investment in China and oil supply disruptions, the bank said.
"In this weak external environment, growth for developing countries will need to come from within, by strengthening governance and investing in infrastructure, education, and health care," the bank added.