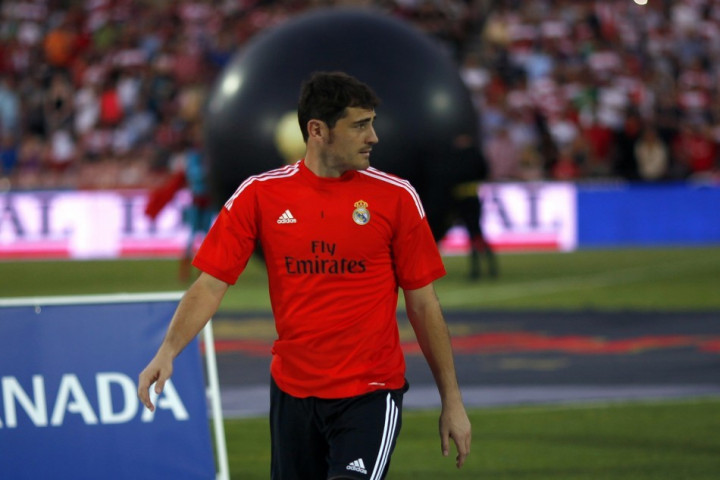 As Spain's brutal defenestration by the Netherlands neared its conclusion on Friday evening, the camera panned to the Spanish goalmouth, the epicentre of the evening's tumult. Iker Casillas, normally a beacon of stability and composure, stood bedraggled in the downpour, staring forlornly into the middle distance as his reputation was ripped apart before the eyes of the world.
Even the hardest of hearts must have held a kernel of pity for the Spanish goalkeeper. He had conceded five goals, and been solely culpable for two of them. After missing a routine cross to gift Holland their third, he had miscontrolled a back-pass to allow Robin van Persie to make it 4-1. For all Spain were out-played and out-thought, it was Casillas who had cost his side the game.
In the aftermath of the Spanish debacle, the reaction of the world's press has been predictably savage. Casillas, they tell us, has to go: after his blunder which gave Atletico Madrid the lead in last month's Champions League final, the Netherlands rout provided conclusive proof that he is now a liability between the Spanish sticks, and must be banished to purdah by his country, just as he has been by Real Madrid.
Yet the reality is far less straightforward than many of the world's footballing scribes appear to believe. First of all, there's no way of knowing whether Casillas's replacement will do any better. David De Gea is injured, so if Vincente del Bosque chooses to drop Casillas, he will have to pick Pepe Reina, a player who has been cast off by two clubs inside 12 months. Casillas may have made mistakes, but at least he's been playing in big games. Asking Reina to go from waterboy to World Cup saviour carries huge risk.
Then there's Casillas's wider role within the Spanish team to consider. For he is far more than just a net-minder; he is the captain of his team, a footballing statesman known to millions in his homeland as 'San Iker'. Blessed with intelligence, diplomacy skills and a natural authority, he is the handsome figurehead of the modern, unified Spanish team.
Spain's seleccion has always been a powderkeg of languages and mentalities. Basque, Catalan, Galician and Castillian are thrown together for a short period and asked to put aside the parochial mantras drilled into them since birth. For decades, bickering, recrimination and failure were the inevitable results of this uneasy alliance.
Yet Casillas has played an integral role in stitching the cliques of the Spanish squad together, allowing all those gifted players to weave their tiki taka tapestry. His close friendship with Xavi appears to have encouraged the rest of the Real Madrid and Barcelona factions to subsume themselves into the La Roja project. Under Casillas, Spain have finally acquired the team spirit to match their talent - and world domination has ensued.
If Casillas is purged by del Boque, who will become the figurehead of the team, the middle man who pulls them together and pushes them forward? Gerard Pique and Sergio Ramos lack maturity, while Xavi and Andres Iniesta, for all their status and experience, appear too diffident for the task. It's easy to imagine a Casillas-less Spain descending into bitching and rancour should they go a goal behind against Chile. Were they to do so, their chances of progressing in the tournament would evaporate.
Casillas is certainly a fading footballing power; the fact that both Jose Mourinho and Carlo Ancelotti have deemed him unworthy of a regular starting spot proves as much. Yet he remains the cornerstone of the dressing room, a common factor in the squad's various cliques. Del Bosque, a pragmatist to his core, must know that a decision to drop his captain could be fatal.