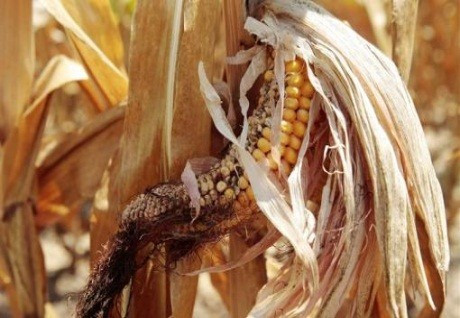 Wheat, cereals and coarse grain stocks are dwindling, according to a global agency, threatening to send food prices rocketing over the course of 2013 and cause social unrest in some of the poorest parts of the world.
The worst drought in America for a quarter of a century has dried up supply from one of the planet's biggest wheat and maize producers, with 80 percent of its agricultural land having been affected by the lack of rain.
Wheat production has also been hindered by dry weather across Europe and Asia.
"A tightening in world supply and demand balance is keeping wheat prices above the 2011 levels," said the UN's Food and Agriculture Organization (FAO).
"Latest information confirms a smaller wheat crop in 2012 and, with projected utilization exceeding production, stocks are expected to be drawn down sharply, especially major exporters' stocks."
FAO said coarse grain stocks will fall to "historic lows" while world cereal production will drop by 2.7 percent.
Any price rise in wheat and grains has a knock-on effect.
They are not just staple foods in the diet of billions of people worldwide, but also used in products like animal feed to keep livestock nourished.
This means meat prices could also soar.
"Global meat markets are challenged by high feed prices, stagnating consumption, and falling profitability, with growth in total output slowing down to 2 percent," said the FAO.
"With international prices close to record highs, growth in world trade is also decelerating."
Energy prices may also be affected as biofuels, which rely on grains, become more expensive.
Volatile food prices have caused unrest in famine-ridden parts of the African east coast, where desperately hungry people have broken out into rioting and millions have died of starvation due to food scarcity.