World heritage site Keoladeo National Park in India could lose tag as birds stay away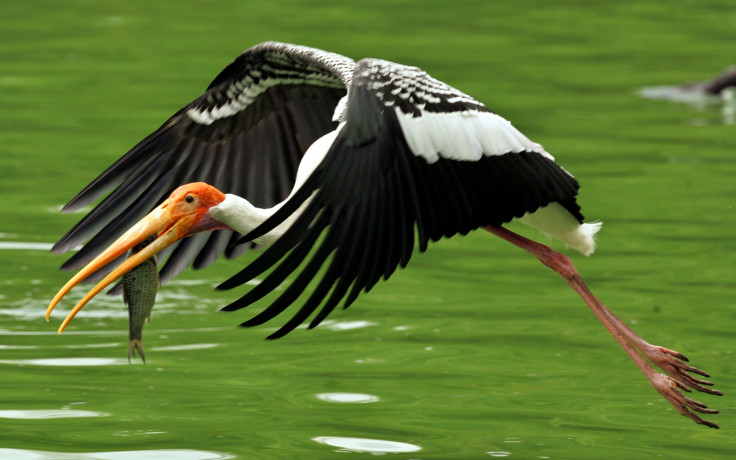 India's Keoladeo National Park in Bharatpur district in the state of Rajasthan, visited by thousands of painted storks and other migratory birds for decades, has gone silent.
Half a century ago, it was common to find 10,000 storks roosting here in winter. Now there seem to be none.
During a recent survey as part of the Asian water bird census, ecologist T K Roy, who works with the South Asia chapter of Wetlands International, found only two painted storks in the park which is a World Heritage Site.
The painted stork which is a local migratory species usually flocks from southern India to Bharatpur in October every year for nesting, breeding and raising chicks. They leave after April for south India.
This year, the entire colony of more than 1,000 birds left en masse in October, leaving behind their nests and eggs. The eggs were destroyed by crows and other scavenger birds.
Painted storks are usually found in the central part of the park, where water is usually abundant.
These birds are classified as nearly threatened species and their numbers have been declining over the years.
The disturbance in breeding this year would further affect their population. For a stabilised population, breeding should happen every year, says K Sivakumar, senior scientist with Wildlife Institute of India (WII) in Dehradun.
Roy believes that climate change has induced these birds to move their range, or shift their seasonal activities as a result of warmer temperatures.
Disturbance at site
Construction inside the national park is cited as another big reason. Recently, the forest department had allowed dozens of trucks and earth diggers for two to three days inside the park for construction of mounts and mud platforms to facilitate closer observation of birds by tourists.
"Painted storks live in colonies and if their habitat is disturbed, they would leave en masse," says Sivakumar. "Birds should not be disturbed during nesting and breeding."
Another wetland which is the largest breeding site for flamingos in Asia also stands similarly threatened by road construction across the Kutch Desert Wildlife Sanctuary.
The 262km long road is seen by conservationists as detrimental to the 150,000 flamingo populations. Roads disturb the protected areas by bringing pollution, fragmenting the land and often leading to mix of saline and fresh water.
At Bharatpur, park authorities believe water shortage is the reason the birds have left. Field director Bijo Joy told Down to Earth, "Deficient monsoon and shortage of water are responsible for the birds' exit."
The park has not received the required water from the sources. Besides, the water brought in passes through villages and brings along pollutants, he said.
In the 2006-2007 season also, the park was affected by drought. Birds abandoned the park and returned only two years later.
Water scarcity has resulted in increased salinity and the successive droughts have encouraged the growth of invasive terrestrial weeds in the wetland. If the situation continues, the park could lose its heritage status.
Another wetland in the state of Madhya Pradesh (Karera sanctuary) could be the first sanctuary in the country to be denotified following the total disappearance of the Great Indian Bustard in one of the failed experiments in conservation.
Tourism potential
Interestingly, an international collaborative work recently pointed to the large number of footfalls in the world's national parks and nature reserves.
At around eight billion visits every year, these protected areas have a potential of fetching $600bn in tourism revenues, said the paper, while noting that current global expenditure on protected areas was "grossly insufficient."
Not enough is done to safeguard the protected areas from encroachment and illegal harvesting, it said.
More about wildlife conservation
© Copyright IBTimes 2023. All rights reserved.