The world's biggest and smelliest flower species Titan arum is set to flower at the Eden Project in Cornwall in the coming days.
At present, the 268cm-tall Amorphophallus titanium is just 23cm short of being the biggest ever Titan at the Eden Project and it is expected to grow further before it blossoms in the very near future.
However, it will not break the world record for the tallest Titan flower. The tallest specimen ever reached 3.1m in 2010.
The specimen at the Eden Project is the ninth to have flowered at the biodome and experts believe it will bloom twice.
At present, it is growing at a rate of between 15 and 20cm per day. It is thought it will flower over the weekend or at the start of next week.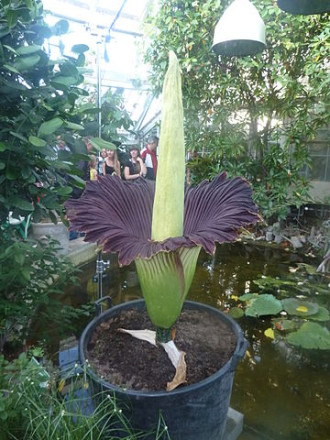 Titan expert Tim Grigg, who cut the flower back after it first bloomed in 2011, said: "I am really proud of this Titan, the first one that has flowered twice at Eden. Here's to many more Titan arum flowers in years to come."
Titan arums normally live between seven and 10 years before flowering for two days then dying. They are native to the Western Sumatran rainforests in Indonesia and are an endangered species due to deforestation.
Grigg said this plant is a first for the Eden Project after first flowering in 2011, reaching 291cm at its tallest.
Titan arum is known as the 'corpse flower' because of the foul smell it emits when flowering. The musky scent attracts creatures that then pollinate the plant.
Over the last 15 years, the Eden Project has become one of the world's best Titan growers, with around 30 smaller species expected to flower over the next few years.
To mark the occasion, the Eden Project is installing a 'stinky step' to allow visitors to get right up to the Titan arum to get a good whiff of its stench. A webcam will also be set up so people who cannot visit can keep an eye on its progress. The video will be available here.