A Mexican baby boy weighing nearly 5 stone, might be the world's fattest baby.
Luis Manuel, from Tecoman in the western Mexican state of Colima, weighs 4 stones 10lbs at just 10 months old.
At one-month old he weighed as much as a 2-year-old and needed clothes for older children due to his rapidly expanding waistline.
Now weighing as much as a 9-year-old, it's feared he may be suffering from a rare genetic disorder that causes children to overeat.
Prader-Willi syndrome is an incurable disorder that causes a constant urge to eat food, restricted growth and reduced muscle tone and can ultimately trigger heart attacks in children according to Mail Online.
Luis's mother Isabel Pantoja said that while Luis weighed a healthy 7lbs 11oz (3.5kg) at birth, she noticed how quickly he was gaining weight soon after he was born.
She said: "After only one month we noticed that clothes did not fit him and we had to dress him in clothes for a one-year-old, and even a two-year-old. We saw our baby gain weight so fast. Sometimes, he could not sleep because he felt like he was suffocating due to his weight."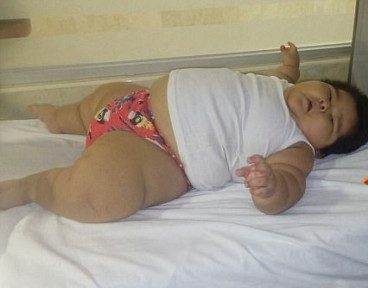 His family have started a fundraising appeal to pay for medical treatment which includes a course of hormone injections, with each one reportedly costing £404 (10,000 MXN/$530).
The boy's father, Mario Gonzalez, said he has set up a fund to try to help his son as he fears for his health.
He said: "In some cases, kids have died because of a heart attack due to being so overweight. All help given for him, small or big, is good for him."
Doctors believe Luis would be the first ever recorded case of the condition in the city, according to local reports.