The polar bear population is set to decline by about 7,800 bears – or 30 per cent of the global population – by the middle of the century, a new study has found.
The study supports the IUCN Red List's classification of polar bears as a vulnerable species that has a high risk of going extinct in the wild.
Polar bears rely on sea ice for almost all aspects of life, but sea ice in the Arctic is diminishing rapidly due to anthropogenic climate change.
In some parts of the Arctic where polar bears live and hunt, more than four days of ice cover has been lost each year on average since 1979. The less days of ice cover there are, the less opportunity there is for polar bears to hunt.
The study used satellite data from 35 years – three polar bear generations – from 1979 to 2014. The overall polar bear population of 26,000 is divided into about 19 sub-populations.
The study measured polar bear generation length through observations of how frequently polar bears reproduce, to find that there was an average generation length of a little over 11 years.
A long time between birth and reaching breeding age means that polar bear populations are vulnerable to quick environmental changes, as it takes a long time to reproduce and boost their numbers.
The study measured declining sea ice in all of the areas where these sub-populations live. They found that the median average for days of ice cover lost each year over the 35-year period was 1.26 days.
Some sub-populations are already declining with loss of sea ice, while others are showing signs that they are struggling to get enough food, the study authors write.
From this data the scientists estimate that there is a 70 per cent chance that polar bear populations will fall by almost a third by about 2050.
The study comes as scientists at the US's National Snow and Ice Data Center announce record low Arctic sea ice extent for November. The average figure for the month was 9.08 square kilometres – 800,000 sq km less than the previous record low for November, which was reached in 2006.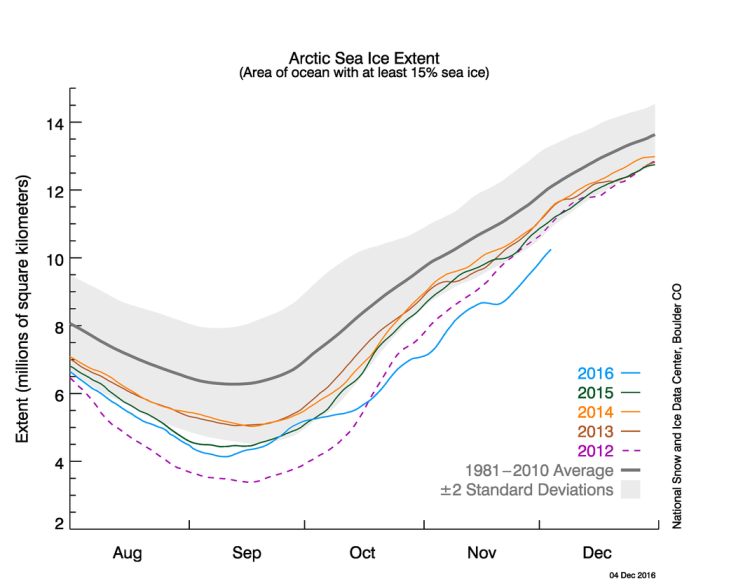 On 6 November, Julienne Stroeve of the NSIDC told IBTimes UK that ocean temperatures in the Arctic are unusually warm.
"Ocean temperatures are about 4C warmer than average in the Chukchi Sea, in the Kara and the Barents Sea and around Svalbard. The air temperatures – the averages for the whole month of November – are about 10C above normal around the pole.
"Most of the Arctic is a bit lower, but the report that came out a couple of weeks ago when it was 20C above normal that was for a particular day, and it did see some particularly warm temperatures for a few days."