German President Christian Wulff Resigns in Loans Scandal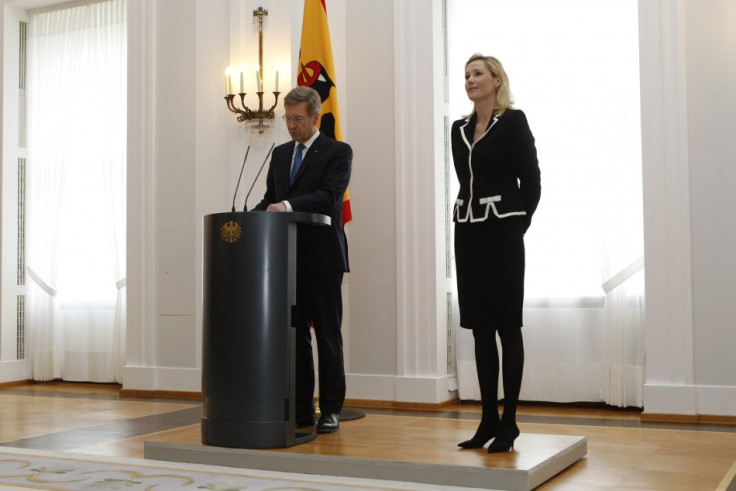 German President Christian Wulff has resigned in a scandal over allegedly accepting favours before becoming head of state.
"The German republic needs a president able and willing to face tremendous challenges inside and outside the country," he said in a speech announcing his resignation. "He needs to enjoy the trust of an overwhelming majority. This confidence and trust has been damaged in the past weeks. For this reason I am unable to continue in the office of federal president."
Wulff said he is confident that the investigation will lead to his total exoneration, claiming that he had behaved blamelessly while in office.
In an unprecedented move, prosecutors had asked parliament to end Wullf's legal immunity over accusations that he accepted favours in a prelude to an investigation. Chancellor Angela Merkel cancelled her planned trip to Rome.
Wulff, a member of Merkel's conservative Christian Democratic Union, was elected in 2010.
The scandal erupted in December, when it was reported that Wulff had failed to declare a home loan that he had accepted with favourable terms from the wife of a tycoon while he was premier of the state of Lower Saxony.
In January, Wulff came under fire for contacting the editor of a German newspaper before it reported the loan.
Prosecutors in Hannover, Lower Saxony's capital, said there is now an "initial suspicion" that Wulff improperly accepted or granted favours in his relationship with David Groenewold, a German film producer.
Thomas Oppermann, a senior lawmaker with the opposition Social Democrats, said Wulff's position was "no longer sustainable."
"We don't need a saint in the Bellevue Palace, but we do need someone who sticks to the law," he said.
The role of president in Germany is largely ceremonial and serves as a form of moral authority. Nonetheless, Wulff's resignation could prove embarrassing for Chancellor Merkel as she deals with the eurozone debt crisis.
© Copyright IBTimes 2023. All rights reserved.