Scammers conned teenager Peter Clatworthy into paying £450 for the Xbox One on eBay, then sent him a bad photo of the console instead.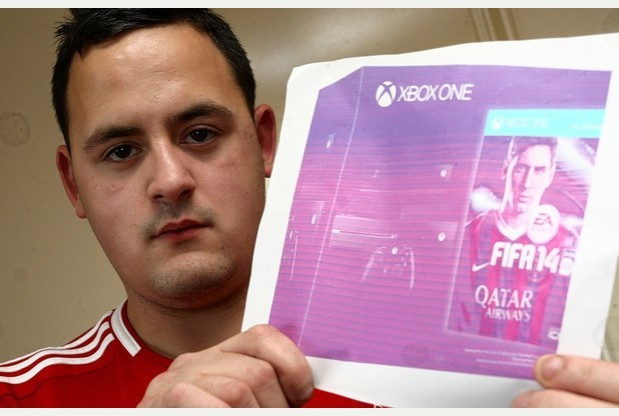 Update: Teenager Receives Full Refund and Free Xbox One Console
The 19-year-old teenager from Bilbourough, Nottingham saved for months in order to afford a limited edition Day One release of the Xbox One, which he wanted to give to his four-year-old son McKenzie as a surprise Christmas present, the Nottingham Post reports.
Clatworthy made the purchase on eBay on 28 November, paying £450 and £8 for packaging.
However, the postman delivered a brown envelope, which had a very badly printed photograph of the Xbox One on an A4 piece of paper, and on the back of the page, the seller had written, "Thank you for your purchase."
The auction had been very cleverly written by a seller - the auction title stated: "Xbox One Fifa 14 Day One Edition, Photo Brand New UK 2013".
"It said 'photo' and I was in two minds, but I looked at the description and the fact it was in the right category made me think it was genuine," Clatworthy told the Nottingham Post.
"I looked at the seller's feedback and there was nothing negative. I bought it there and then because I thought it was a good deal. It's obvious now I've been conned out of my money."
Clatworthy has since contested the claim with eBay, and the auction website has investigated and concluded that he is entitled to a full refund from the seller.
Under eBay's current rules, if the buyer opens a case and eBay finds in favour of the buyer, eBay has the right to immediately withdraw the funds from the seller's PayPal account and return the funds to the buyer, so at least Clatworthy is protected.
The Xbox One was released on 21 November, selling 1 million units worldwide in less than 24 hours. Since then, there have been reports that people have been paying hundreds of pounds to purchase empty Xbox One packaging.
Read More: