Xenophobia-fearing asylum seekers risk brutal winter conditions to cross from US into Canada
Two men lost all their fingers to frostbite after a 10-hour trek across fields of waist-high snow in sub-zero temperatures.
Asylum seekers, fearing worsening xenophobia in the US, are risking brutal winter conditions to cross illegally into Canada. While the number of illegal crossings to Canada is dwarfed by the hundreds of thousands from Mexico on the southern border, the numbers are increasing. In Quebec, the number is 1,280 in the past year. Illegal crossings to British Columbia doubled to 652 last year. In Manitoba, the Royal Canadian Mounted Police (RCMP) intercepted 68 people three years ago but 430 this fiscal year.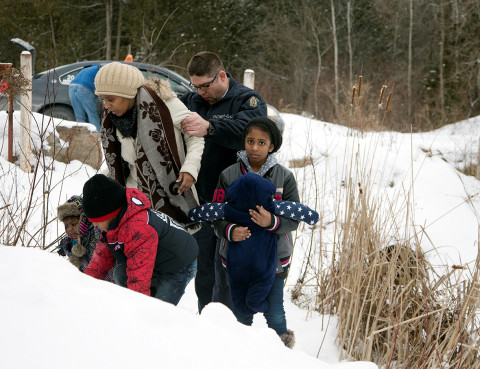 Refugees who spoke with The Associated Press cited President Donald Trump's order and anti-Muslim campaign rhetoric as the main reasons for going north. Groups that specialise in helping refugees say the pace of arrivals has quickened since Trump became president and banned travel from seven majority-Muslim countries. Trump's immigration ban – now on hold – put a 90-day bar on citizens from Iran, Iraq, Libya, Somalia, Sudan, Syria and Yemen and a 120-day halt to all refugees.
Those fleeing the US avoid border posts because of an agreement — called Safe Third Country — that requires migrants to request refugee protection in the first safe country they arrive in. That means migrants arriving at a Canadian border post are rejected and told to apply in the US. Canadian Immigration Minister Ahmed Hussen, himself once a refugee from Somalia, stressed that Canada is welcoming to refugees. Canada has taken in almost 40,000 Syrian refugees, triple the US intake of Syrians in 2016. But Hussen said the agreement with the US will remain because it "provides an orderly system of managing asylum claims".
Ghezae Hagos, a counsellor at Welcome Place in Winnipeg, Manitoba, said that on 4 February five Somalis claimed they walked for five hours in the fields in minus -30C weather. "This is one of the coldest seasons in the coldest parts of our country," he said.
Bashir Yussuf, a Somali refugee who spent three years in San Diego and two months in Minneapolis, crossed the border on 5 February with two others. He called the trip "the hardest thing I've ever done", describing a three-hour journey over ice and snow. "I even jumped two rivers over snow. You go down deep," he said. "My life was in danger in many ways."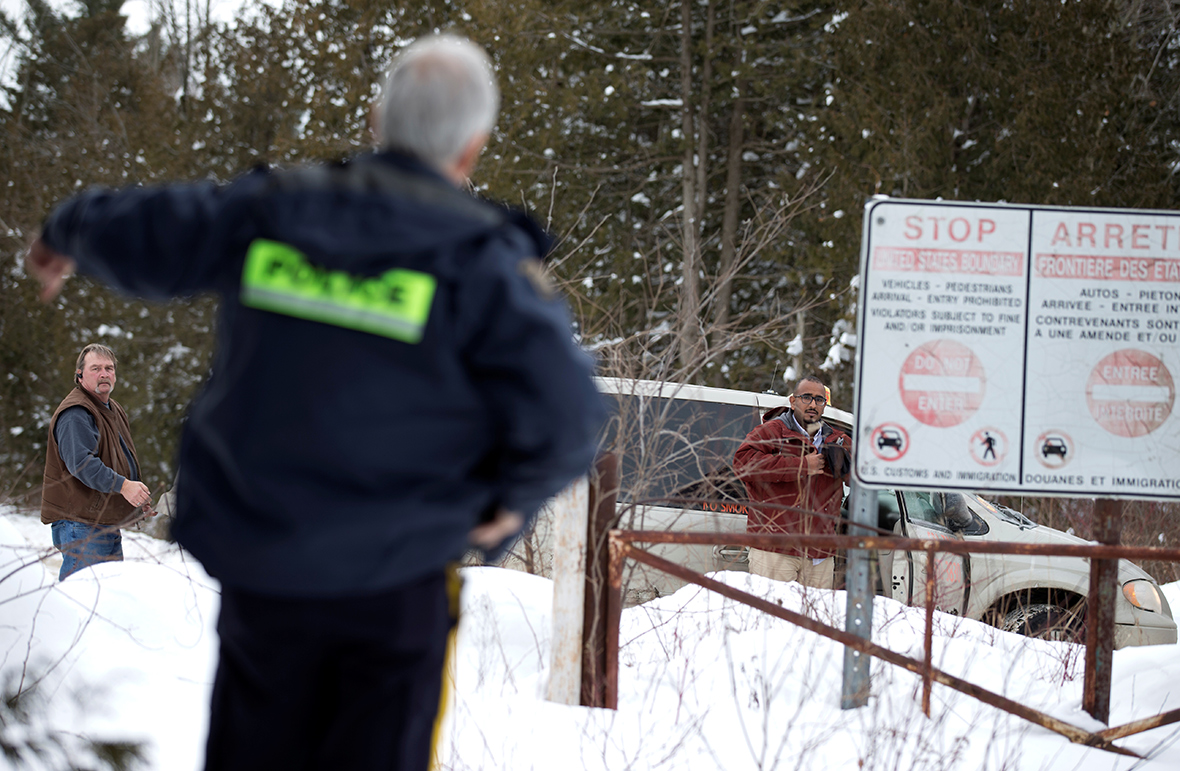 After he was denied asylum in the US, Seidu Mohammed's fear of being deported to his native Ghana, where he believes he'd be killed or jailed, became so great that he set out in brutal winter conditions to cross illegally into Canada. Mohammed and his friend lost all their fingers to frostbite after a 10-hour trek across fields of waist-high snow in sub-zero temperatures. Despite their injuries, the two men say they now feel safe. "God blessed Canada with good people," said Mohammed, 24. "I see the difference between Canada and the United States."
Mohammed, who feared for his safety in Ghana because he's bisexual, met Razak Iyal, also a Ghana national, at a bus terminal in Minneapolis. Both men had been denied asylum. Worried about deportation, they decided to travel together and took a bus to Grand Forks, North Dakota. They then each paid a taxi driver $200 on Christmas Eve to get them close to the border. They crossed on foot, fearing death in the brutal cold until a truck driver saved them. "We were standing in front of the highway looking for help for almost seven hours. Nobody was willing to help, no traffic stopped. We gave up. That was our end of our life," Iyal said.
Mohammed and Iyal are hoping for prosthetic fingers, and Iyal said he wants to bring his wife to Canada. "We feel like we are home," Iyal said. "We feel we are a part of Canada. ... They were talking to us with respect."