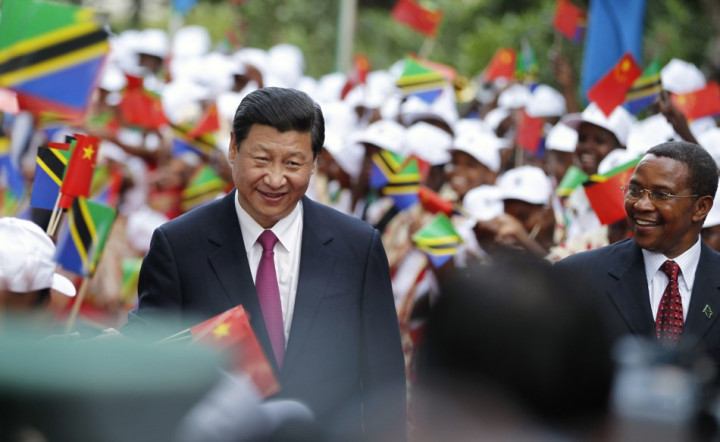 China's new President Xi Jinping has met with his Tanzanian counterpart Jakaya Kikwete on the second stop on his first official trip overseas.
Xi arrived in Tanzania's economic capital of Dar es Salaam, before further sub-Saharan stops in South Africa and Republic of Congo (ROC).
The visit is designed to replace the idea of an aggressive, exploitative and colonialist China with the image of a more benevolent trading partner engaged in Africa's long-term development, analysts say.
"China-Africa cooperation is comprehensive," Xi said ahead of the trip. "[China values] friendly relationships with all African countries, no matter whether they are big or small, strong or weak, rich or poor."
Spurred on by Beijing's hunger for energy and other resource china's annual trade with Africa has boomed to around $200bn (£131.4bn) in 2012, according to China's Ministry of Commerce. In 2000, it was $10.5bn.
"No matter whether it is rich or poor in resources, China treats it equally and actively carries out pragmatic cooperation that benefits both sides," Xi said.
China is Tanzania's largest trading partner and second largest source of investment. Bilateral trade reached $2.47bn in 2012, up 15 percent on the previous year, and Beijing is involved in the construction of a 532km gas pipeline in the country.
Friendly relations between the two countries date back almost 50 years, to the the Beijing-funded construction of a 1,800km railway from Zambia to Tanzania's Dar e Salaam, at the behest of Mao.
To emphasise the importance of the Tazara railway, which is widely viewed as China's gift to Africa, Xi is to visit Gongo la Mboto cemetery, where Chinese workers who died during its construction are buried.
During talks, Xi and Kikwete have signed 16 different trade agreements including the construction of essential infrastructure such as hospitals and ports.
"The two countries agreed to build and develop a comprehensive partnership of mutual benefit and win-win cooperation, with a series of celebrations planned to mark the 50 years of their diplomatic ties next year," wrote China's state owned news agency Xinhua.
To build soft power and show China's friendly and affable face, Xi is travelling with his singer wife, Peng Liyuan, who is a hugely popular figure at home.
Peng's role under the international spotlight breaks with the tradition of secluded Chinese first ladies.
"It's the first time that China's first lady appears like a modern woman. I think she dressed very well, with taste and confidence," said Zhang Yu, editor of China's Vogue magazine. "After so many years, we finally have a first lady who can represent us so appropriately. I think it is a landmark event."
Xi arrived in Africa from Moscow, where he met Russian President Vladimir Putin to boost ties with what he called "[China's] most important strategic partner."