As the Samsung Galaxy Mega 6.3 and the Sony Xperia Z Ultra are touted to be two major market rivals, IBTImes UK brings out a detailed features comparison of both the devices, to help readers decide which one to buy.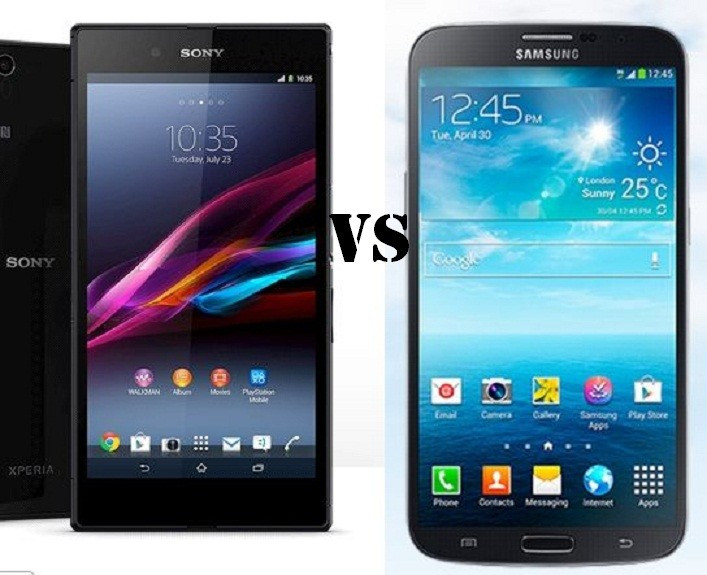 Here is how the Xperia Z Ultra and the Galaxy Mega 6.3 stacks up against each other.
Xperia Z Ultra vs Galaxy Mega 6.3: Display
The Xperia Z Ultra and the Galaxy Mega 6.3 feature almost similar sized screen with merely a difference of an inch in both screens.
But, the major difference in terms of screen technology is the Xperia Z with a 6.4in screen, is company's first smartphone to incorporate Full HD TRILUMINOS display for mobile powered by the latest X-Reality for mobile picture engine. The X-Reality, as Sony claims, is a super resolution display technology which analyses each image and reproduces lacking pixels to optimise for the sharpest videos. It also analyses element depending on the scene and adjusts theme based on patter, outline and colour composition. It is said to strengthen subtle patterns and accurately portrays their detailed feel while reinforcing bold outlines. The HD screen has been reportedly optmised to experience at least 60% more of the screen compared to regular smartphones.
The Xperia Z Ultra features a screen resolution of 1920 x 1080pixels, paired with a pixel density of 342 pixels per inch (ppi) expected to deliver razor sharp and bright photos.
The Galaxy Mega 6.3, in contrast, with HD Super Clear LCD display promises to offer an exceptional widescreen viewing for various applications including web browsing, video and SNS. The screen resolution as well as pixel count is comparatively less than the Xperia Z Ultra, at 720 x 1280 pixels and 233 ppi.
Although, the Galaxy Mega 6.3 features 720p display but it is bright enough and from an ideal distance the device is surprisingly decent. With the LCD panel and vibrant screen, the Galaxy Mega is equally bright even under direct sunlight. It indeed offers great viewing angles, notes a review by Engadget.
Xperia Z Ultra vs Galaxy Mega 6.3: Dimensions
The Xperia Z is 179mm tall by 92mm wide and 6.5mm thick. As for the physical dimension, the Xperia Z Ultra is larger, wider and quite thinner than then Galaxy Mega 6.3 featuring a thickness of 6.5mm only. As Sony boasts, its new handset is ultra-slim and a lightweight handset, weighing just 212g. Besides, it features the similar OmniBalance design as the Xperia Z smartphone and the Xperia Z Tablet. Another key feature of the Xperia Z Ultra is it is resistant to dust and waterproof carrying an impressive IP code rating of IP55 and IP58.
However, the Galaxy Mega is 13g lighter than the Xperia Z Ultra, weighting 199g.
Xperia Z Ultra: 179 x 92 x 6.5mm
Galaxy Mega 6.3: 167.6 x 88 x 8mm
Xperia Z Ultra vs Galaxy Mega 6.3: Operating System
Both the handsets run on the latest Jelly Bean software version, Android 4.2, out of box.
The Android v4.2 integrates a host of new features including the camera app called Photo Sphere, Gesture Typing (allows users to glide fingers over the letters they want to type on the keyboard while increasing the typing speed), Daydream, enhanced Google Now, Google Search and Android Beam. The Android 4.2 adds support for wireless display allowing users to share movies, YouTube videos and other video and images on TVs.
Xperia Z Ultra vs Galaxy Mega 6.3: Processor and RAM
Interestingly, both Sony and Samsung use Qualcomm's Snapdragon mobile system on chip (SoC).
But the key difference is, the Xperia Z Ultra is equipped with Snapdragon 800 chip featuring a quad-core Krait 400 processor, with each core running at clock speeds up to 2.2GHz, and paired with Adreno 330 graphics unit.
The Galaxy Mega 6.3, on the contrary, is powered by Snapdragon 400 chip featuring a dual-core Krait processor, clocked at 1.7GHz. The Snapdragon 400 chip also integrates Adreno 305 graphics unit.
The Xperia Z Ultra features 2GB of RAM against the Galaxy Mega 6.3 which has 1.5GB of RAM.
Xperia Z Ultra vs Galaxy Mega 6.3: Camera
The Galaxy Mega 6.3 has an eight megapixel rear-facing camera, with auto-focus and LED flash, and 1.9 megapixel front camera. The primary camera is capable of recording 1080p video at 30 frames per second (fps). Additionally, the Mega comes along with a variety of camera modes and features such as Sound & Shot, Sports, Night Shot, Beauty Face, Best Photo, Continuous Shot, Best Face, Rich tone (HDR) and Panorama.
The Xperia Z Ultra also comes with an eight megapixel primary camera with Exmor RS for mobile image sensor, which is Sony's image sensor technology with a next-gen BSI (Backside illumination) light sensor. This camera technology enables users to capture photos with detailed shots even in low light conditions. The rear-camera also supports HDR (High Dynamic Range) for photos and videos. The HDR is an imaging technology used to capture clear photos against strong backlight. The HDR for video enables to shot in high contrast situations.
Sony's new smartphone also has a two megapixel front-facing camera. Both front and rear cameras can record 1080p video at 30fps.
The other camera features of Xperia Z Ultra include Continuous burst mode, Face detection, Image stabilisation, Object tracking, Picture Effect, Quick Launch, Scene recognition, Self-timer, Send to web, Smile shutter, Superior Auto, Sweep Panorama, Touch focus, Touch capture and White balance.
Xperia Z Ultra vs Galaxy Mega 6.3: Connectivity
Both the Xperia Z Ultra and the Galaxy Mega offer Wi-Fi 802.11 a/b/g/n/ac, dual-band, Wi-Fi Direct, DLNA, Wi-Fi hotspot and Bluetooth v4.0.
Besides, both the devices are Near Field Communication (NFC) enabled and supports 4G LTE network speeds.
Xperia Z Ultra vs Galaxy Mega 6.3: Storage
The Galaxy Mega comes in both 8GB as well as 16GB storage variants whereas the Xperia Z Ultra will be available only in a 16GB variant. However, both devices offer microSD card slot for storage expansion up to 64GB.
Xperia Z Ultra vs Galaxy Mega 6.3: Battery
The battery sizes of both the smartphones are almost similar with the Galaxy Mega running with a battery of 3,200mAh whereas the Xperia Z Ultra uses a 3050mAh battery.
As for the battery performance, the Galaxy Mega 6.3 delivers talk time up to 19 hours and 54 minutes, we browsing up to eight hours and 17 minutes, video playback up to eight hours and 34 minutes. According to battery tests, the Galaxy Mega 6.3 can run for 60 hours on a single charge with one hour each of calling, web browsing and watching videos.
The Xperia Z Ultra, on the other hand, is expected to deliver a claimed talk time up to 14 hours, standby up to 790 hours, music listening up to 120 hours and video playback of 7.5 hours.
Xperia Z Ultra vs Galaxy Mega 6.3: Price
The Xperia Z Ultra, according to the price revealed by Clove UK, is up for pre-order at a suggested retail price of £599.99. This is approximately £145 costlier than the 8GB Galaxy Mega 6.3 which is available for £455.
Also read- HTC One Mini Vs Galaxy S4 Mini