XXX-mas Christmas light display shocks families at Keynsham Winter Festival
Phallic fairground lights got the town laughing.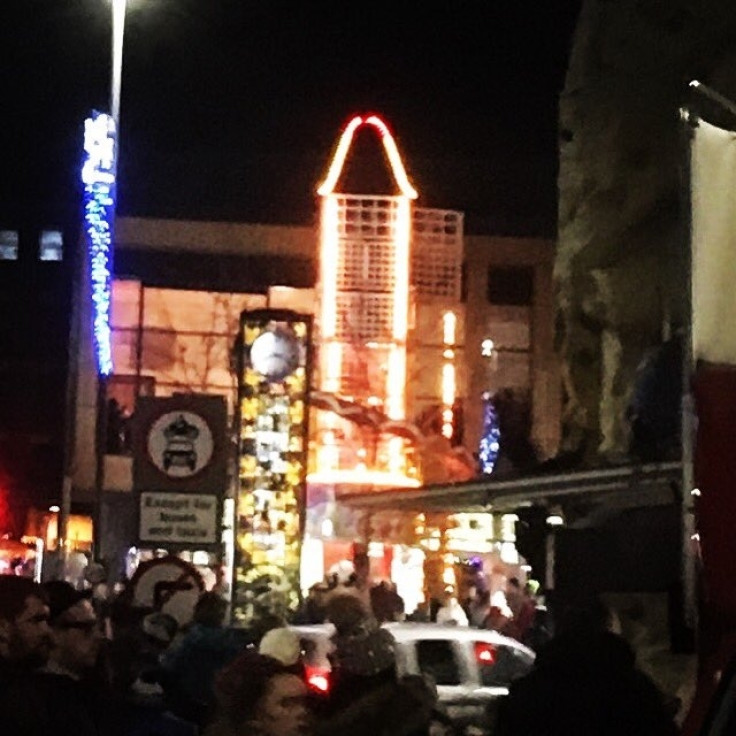 One Somerset town had to see the funny side after an x-rated erection was revealed at its family winter festival event this year.
The town had a giggle at Keynsham Winter Festival, held on Friday 24 November near Bristol, when the Christmas lights came on and the fun fair's helter skelter lit up in the familiar shape of the male member – right in front of the Keynsham Civic Centre. The surprise erection was probably not post-watershed, as the event only ran from 6pm to 9pm.
The unusual lights left little to the imagination, and few residents failed to notice. Cheekily, Twitter user Mr P said: "A bit of a cock up by the Keynsham council there. Someone will be pulled up for it and maybe get the sack."
User Flezmungus, who shared his photo with IB Times UK, also saw the funny side. He said: "Absolutely hilarious! Always good to celebrate the town council's sparkly erections at the annual Winter Festival – it's worth the council tax alone! All credit to them, though. They always do a sterling job setting-up the festival - can't wait 'til next year!"
Meanwhile on Instagram, Lindsey McCullam posted a picture of the lights saying: "Now, it could be my eyes but that's an interesting lighting at the festival... #myeyes #rudelights#isthatwhatitssupposedtolooklike."
Keynsham Town Council declined to comment on the Christmas lights when contacted by IB Times UK. But a statement previously given to Somerset Live said: "The Town Council contract annually for the fun fair rides and has no choice in what is brought along. The fun fair is contracted for the three hours of the event and does not form part of the Town Council's Christmas lights."
The winter festival also featured workshops for children, Punch and Judy, face-painting, crafts and music and dance performances.