Controversy is the word of the year as Miley Cyrus's twerking, NSA spying, zombies, selfies and Breaking Bad top Yahoo's most searched terms in 2013.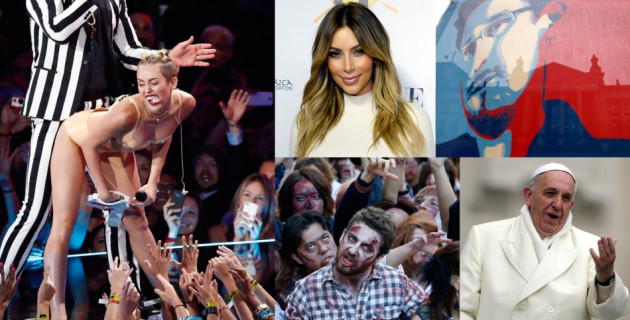 Miley Cyrus succeeded in dethroning Kim Kardashian to take the number one spot as most searched person in 2013 according to Yahoo's annual Year in Review list.
The controversy surrounding Cyrus' performance at the 2013 MTV Video Music Awards ensured she dethroned Kardashian, while her provocative twerking dance move also made the list.
Kardashian's romance with rapper Kanye West and the birth of her baby North West kept the starlet in second place on the list, with supermodel Kate Upton in third, computer game Minecraft as the fourth most searched term and teen actress turned pop star Selena Gomez in fifth spot.
Also featured in the top 10 search terms are President Obama's much-debated national health Obamacare plans which led to a partial US government shutdown for 16 days, former child star Amanda Bynes' public breakdown on social media, Apple's iPhone 5s and 5c and - of course - Justin Bieber.
Obsessions of 2013
Yahoo has also catalogued the leading "obsessions" of 2013, which it classifies as concepts which not only had big search averages, but also accelerated quickly up the search charts.
The Fifty Shades of Grey trilogy made the list for the second year in a row, this time due to fans being disappointed that actors Charlie Hunnam and Dakota Johnson were picked to play kinky lovers Christian Grey and Anastasia Steele.
Following complaints on Twitter and online campaigns by fans, Hunnam eventually pulled out and was replaced by Jamie Dornan.
iPhones and Selfies
Typically Apple's products garnered a lot of attention, with the launch of the iPhone 5s and 5c among the most talked about events.
Talking pictures of yourself on your smartphone or tablet, or "selfies" were also an obsession in 2013, reflected in the fact the word was branded Word of the Year by Oxford Dictionaries just last month.
The most famous selfie of the year featured Pope Francis at the Vatican, with the news of his predecessor Pope Benedict XVI becoming the first Pope to resign from the Vatican in 600 years also a prominent search term.
Snapchat, an app which lets you share pictures and text with friends for a limited time, also rose to prominence in the second half of 2013, when it was reported that both Google and Facebook had made multi-billion dollars bids for the company - all of which were turned down by founder Evan Spiegel.
Zombie Apocalypse and Snowden
TV also featured heavily in people's obsessions in 2013, with Walking Dead and the Breaking Bad series finale among the top searches. Possibly inspired by The Walking Dead, there was a lot of people searching for how to prepare for a "zombie apocalypse" in 2013.
Security and data protection might not have been an obsession, but since top secret documents were leaked by former NSA contractor Edward Snowden, the question of how much access governments have to the information we post on internet sites has become a key topic of debate.
Most recently, Guardian editor Alan Rusbridger has been questioned by the Home Affairs Select Committee after the Guardian newspaper published files leaked by Snowden detailing how the NSA obtains intelligence about users on the internet.