Yasser Arafat Polonium Poisoning: Israel Denies Killing Former Palestine Leader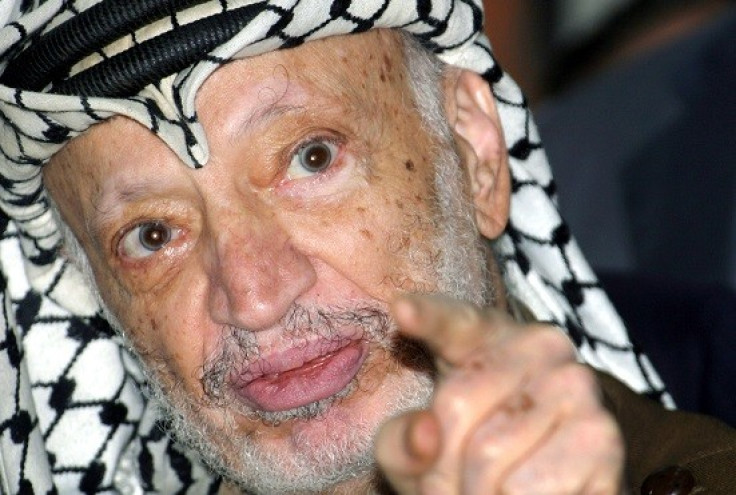 Israel has dismissed a report which says Yasser Arafat died from radiation poisoning as "mere soap opera", amid allegations his death was an Israeli "political assassination".
Swiss scientists who tested the body of the former Palestine leader revealed how his bones contained 18 times the normal levels of the highly radioactive polonium-210, fuelling speculation he was murdered.
Arafat's body was exhumed last November, eight years after his death. Official medical reports said he died from a stroke after suffering from a blood condition known as disseminated intravascular coagulation. No autopsy was carried out at the time of his death.
Arafat's widow, Suha, has now said the report by scientists from the University of Lausanne shows conclusive evidence he was the victim of a "political assassination" in what she called the "crime of the century".
Professor David Barclay, a British forensic scientist who examined the 108-page report, described the findings as a "smoking gun", and that an investigation is needed to determine "who was holding the gun at that time".
Wasel Abu Yousef, a member of the executive committee of the Palestine Liberation Organisation, said the blame lies with Israel.
"President Arafat was the victim of an organised terrorist assassination perpetrated by Israel, which was looking to get rid of him," he said.
Israel's foreign ministry spokesperson Yigal Palmor dismissed the findings in the report as "not conclusive" and further denied the country was in any way involved in Arafat's death.
"Even if they did find traces of polonium that could indicate poisoning, there's no evidence of how that poisoning occurred," he said. "Before the Palestinian Authority jumps to conclusions, there are many questions still to be answered.
"Israel is not involved in any way. There's no way the Palestinians can stick this on us. It's unreasonable and unsupported by facts. We will see yet another round of accusations, but there's no proof."
"The other huge hole in the theory is the absence of all access to the French hospital where Arafat died and to Arafat's medical files.
"How can the cause of death be determined without the opinion of the doctors or the results of the medical tests they ran on the patient?" he told the BBC.
Dov Weissglass, a former aide to Israeli prime minister Ariel Sharon, added there would have been "no logic or reason" for the country to kill Arafat in 2004 as his influenced had waned by then.
Another former aide to Sharon added that Raanan Gissin the prime minister had taken steps to make sure one of his soldiers did not kill Arafat while being held up in his Israeli occupied West Bank compound
He told AFP: "His instructions were to take every precaution to avoid Israel being accused of Arafat's death.
"Instead of launching baseless accusations against Israel, the Palestinians would be better to question those in Arafat's entourage who had an interest in his death and above all getting their hands on the money he controlled," he added.
© Copyright IBTimes 2023. All rights reserved.