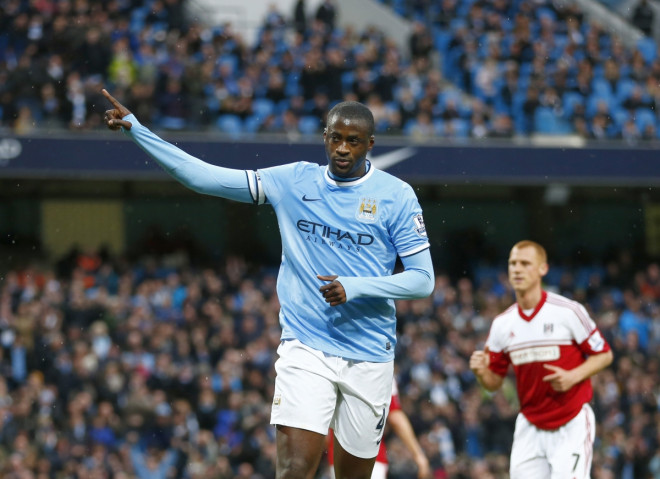 Arsene Wenger refused to believe Yaya Toure could become the next Patrick Vieira and tried to convince the Manchester City midfielder to become a striker during his brief trial with Arsenal in 2003.
The Ivory Coast international was on the brink of joining his brother Kolo at the Gunners over 10 years ago but a move failed to materialise following complications in obtaining a passport.
Following stints in Belgium, Ukraine, Greece, France and Spain, Toure is now recognised as one of the finest midfielders in the game and is considered a strong candidate for the Player of the Season award alongside Luis Suarez.
Having also been entrusted with a more advanced role by Manuel Pellegrini this season, the former Barcelona star has also enjoyed his most fruitful season in front of goal yet with 21 goals to his name. But had things worked out at Arsenal Toure could have found himself playing even further up the pitch.
"When I was in Belgium, I went to Arsenal for a couple of months to give me some training and I remember my first chat I had with Arsene," Toure told City's official YouTube channel.
"He asked me, 'Which position do you want to play?' I said 'Midfielder.'
"He said, "Why? When I saw you training, for me, you looked more like a striker.'
"I said, 'That's why you always put me up front, move me, I want to play in midfield like Patrick (Vieira). I said 'I can play like Patrick, I can be better than Patrick' and he said 'No, no, it's impossible."
Toure even featured in a friendly against Barnet during his short spell in north London before deciding to join Metalurh Donetsk in Ukraine.
Wenger maintains Arsenal did not turn down the opportunity to sign the powerful midfielder, but admits missing out on him remains one of the biggest regrets in his managerial career.
"It's up at the top," Wenger said. "But let's not forget that Yaya Toure had an agreement with us and it's not because we did not want to sign him that he went to Ukraine.
"We had to wait for his passport in Belgium. We have made mistakes [with transfers], but this was not a mistake.
"He preferred to go to Metalurh Donetsk because he could go there without a passport."