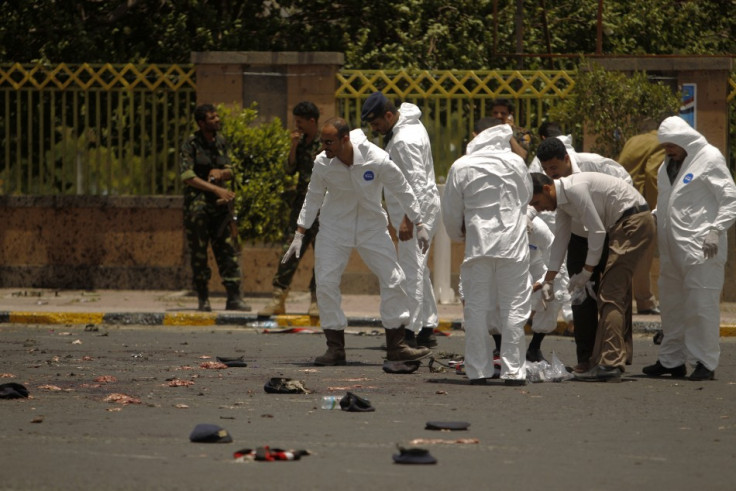 A suicide bomb attack killed 96 people in the Yemeni capital of Sanaa during a rehearsal for a military parade.
A man in army uniform blew himself up in among a group of soldiers near the presidential palace.
It was the deadliest attack in the city since president Abd-Rabbu Mansour Hadi took power in February. It coincided with a US-backed Yemeni army offensive against al-Qaida militants in the south of the country. Reports indicate that the attack bears the hallmarks of the terrorist group. Hadi pledged to keep fighting al-Qaida "until we have eradicated their presence in every village".
The area, littered with blood and body parts, was cordoned off with yellow tape and a forensic team was examining the site.
"We were in a parade, suddenly there was a huge explosion. Dozens of our men were killed. We tried to help them," Colonel Amin al-Alghabati told Reuters. "The suicide bomber was dressed in a military uniform. He had a belt of explosives underneath."
"This is a real massacre," said Ahmed Sobhi, one of the soldiers who witnessed the explosion. "There are piles of torn body parts, limbs, and heads. This is unbelievable."
Military officials reported that the suicide bomber was a soldier taking part in the rehearsal. He detonated the explosive before the arrival of the defence minister and the chief of staff.
The parade was scheduled to take place on 22 May to mark Yemen's 22nd anniversary of reunification.
Yemeni officials said three US Coast Guard trainers also came under attack by al-Qaida militants at the weekend.
The soldiers who were targeted in the attack were troops from Yemen's Central Security, a paramilitary force headed by Yahya Saleh, nephew of ousted president Ali Abdullah Saleh.
Saleh resigned in February as part of a US-backed handover of power.
Militants have exploited political instability in Yemen to gain power in the country, which has been left ravaged by protests that took place last year.
"Yemenis must stand together in the face of this deadly terrorist threat," said Brigadier Karim Nahil. "We will celebrate our unity tomorrow with the blood of our martyrs on our hands and faces."