The London Sperm Bank has launched an app, believed to be the first of its kind in the world, which allows women to order sperm samples online.
After picking their ideal donor using a range of variables including nationality, occupation and weight, women pay £950, through the app, for the sperm, which is then delivered to the clinic where she is being treated.
If their ideal donor is not immediately available, the user can set up a wish list which will alert them when someone with the desired attributes makes a donation.
"You make all the transactions online, like you do anything else these days," said Dr Kamal Ahuja, scientific director of the London Sperm Bank.
"This allows a woman who wants to get a sperm donor to gain control in the privacy of her own home and to choose and decide in her own time. We think this is the first of its kind in the world."
About half of Britain's IVF clinics, including private and NHS institutions, have registered to use the service, according to The Sunday Times.
The app is legal and meets the requirements of the Human Fertilisation and Embryology Authority (HFEA), the IVF regulator.
The app has not escaped criticism, however.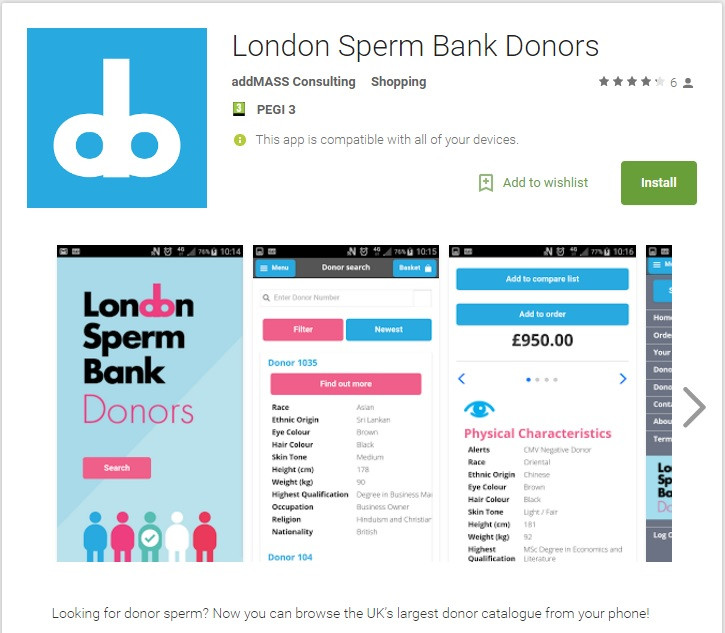 "How much further can we go in the trivialisation of parenthood? This is reproduction via the mobile phone," said Josephine Quintavalle, of the campaign group Comment on Reproductive Ethics. "It's digital dads. Choose daddy. This is the ultimate denigration of fatherhood."
The London Sperm Bank is Britain's biggest sperm bank. It was criticised for its decision to ban men with a range of conditions including dyslexia and dyspraxia from making donations in December 2015.