DJ Khaled will finally release his ninth studio album Major Key on Friday 29 July. After months of teasing the project on Snapchat, the hip hop producer will reveal the outcome of what may be the biggest and most successful album of his career. Will Khaled land his first number one on the Billboard 200 chart? It is looking highly possible.
Major Key, released under We The Best and Epic record labels, will be Khaled's first project since signing to Jay Z's Roc Nation management company in February 2016. It marks an exciting new chapter for Khaled who has supported Beyonce on her Formation World Tour coming off the back of his partnership with her husband Jay Z, 46.
Speaking of his new career path, Khaled, 40, said at the time of his signing to Roc Nation: "So much blessings I needed the right team to help me embrace it right. And when I say embrace I mean brand partnership. When two special cloth brands come together history gets made. I'd like to thank fan luv for walking with me thru the journey of more success."
Khaled's success as a DJ and producer has risen with each album starting with his debut Listennn... The Album in 2006. The Miami resident has since released We The Best, We Global, Victory, We The Best Forever, Kiss The Ring, Suffering From Success and last year's I Changed A Lot.
Despite each record boasting star-studded line-ups, Khaled is yet to claim the number one spot on the charts either in the US or UK. However, with his profile now on a global scale thanks to his highly entertaining Snapchats, Khaled stands a good chance of ending Drake's 11-week reign atop the Billboard 200 chart with Views.
As DJ Khaled prepares for the biggest release of his career, IBTimes UK rounds up all you need to know about Major Key.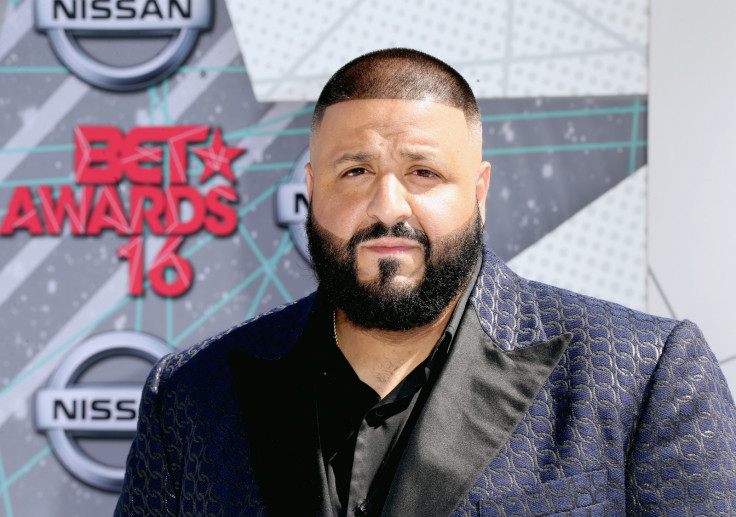 Tracklist
1. I Got The Keys featuring Jay Z and Future
2. For Free featuring Drake
3. Nas Album Done featuring Nas
4. Holy Key featuring Kendrick Lamar, Big Sean and Betty Wright
5. Jermaine's Interlude featuring J Cole
6. Ima Be Alright featuring Bryson Tiller and Future
7. Do You Mind featuring Nicki Minaj, Chris Brown, August Alsina, Jeremih, Future and Rick Ross
8. Fuck Up The Club featuring Future, Rick Ross, YG and Yo Gotti
9. Work For It featuring Big Sean, Gucci Mane and 2 Chainz
10. Don't Ever Play Yourself featuring Jadakiss, Fabolous, Fat Joe, Busta Rhymes and Kent Jones
11. Tourist featuring Travis Scott and Lil Wayne
12. Forgive Me Father featuring Meghan Trainor, Wiz Khalifa and Wale
13. Progress performed by Mavado
Collaborations
Khaled has secured a staggering 29 guest features across the album and some artistes, like Future and Big Sean, appear more than once. Even Khaled is surprised by the wide-range of collaborations he has recorded for the album, telling the New York Post's Page Six: "Some of these people don't even do features. I was supposed to give up, but I didn't. I refused to turn the album in until these vocals were done. I didn't just give the fans one or two hits for the summer, I wanted an album full of hits."
Before their business relationship developed, Khaled had trouble pinning Jay Z down to record his vocals for I Got The Keys. Khaled told Music Choice: "I basically got a condo in NYC for a whole year to stay close by him and to let him know how hungry I was for that verse. I went to the studio everyday, he was recording his album.
"I really appreciate him letting me be around to capture that greatness but at the same time I was hustling too, I wanted to get that verse. It was a year process that I had to go back-and-forth from Miami to New York. I let him know I ain't going nowhere. Basically we made history and I ain't ever stopping."
Album cover
The Major Key cover makes a powerful statement with Khaled sitting on a gold throne in a garden of flowers with a lion at his feet. Explaining the imagery's significance, Khaled told Page Six: "It was real. I Snapchatted it. The lion represents me as the king of the jungle. He represents power, strength and survival. His name was Felix, but I didn't feed him. I ain't playing with that. He was well-behaved that day, but I was concerned that he might get in a bad mood. But we were blessed."
The singles
Fans have somewhat of an idea about Khaled's musical direction with the producer releasing I Got The Keys, For Free and Holy Key as previews.
Major Key will be available to buy via iTunes from Friday 29 July 2016.
Watch DJ Khaled, Jay Z and Future's I Got The Keys music video: