When NSA contractor Reality Winner allegedly printed out a trove of top secret government information, little did she know that a hidden feature within the printer called tracking dots could forensically lead authorities straight back to her.
What you may not know is that most laser printers made today, found everywhere from offices to public libraries, all have the same tracking technology. So, is your printer able to track you?
Below is a list of printer manufacturers the non-profit digital privacy organisation, EFF (Electronic Frontier Foundation), has put together to show which are using invisible yellow dot forensic technology to give away location, time, date, serial number and user ID every time they are used.
Major brands from Canon to Xerox all feature on the lengthy list.
List of known printers using yellow dot tracking
Brother
HL-2700CN
HL-4200CN
Canon
CLC 1000
CLC 2400
CLC 3002
CLC 4000
CLC 5000+
CLC-iR 3200-C1
Color imageRUNNER C2570
Color imageRUNNER C3100CN
Color imageRUNNER C3200
Color imageRUNNER C3200N
Color imageRUNNER C3220
Color Laser Copier 1150
Imageclass MF8170C
Dell
3000CN
3100CN
5100CN
Epson
AcuLaser C900
AcuLaser C1100
AcuLaser C1500
AcuLaser C1900
AcuLaser C3000
AcuLaser C4000
Fuji: see Xerox
Hewlett-Packard
Color LaserJET 1550L
Color LaserJET 1600
Color LaserJET 2500
Color LaserJET 2500L
Color LaserJET 2500N
Color LaserJET 2550
Color LaserJET 2550L
Color LaserJET 2550N
Color LaserJET 2600N
Color LaserJET 2680
Color LaserJET 2700N
Color LaserJET 2840
Color LaserJET 3500
Color LaserJET 3550
Color LaserJET 3600DN
Color LaserJET 3700
Color LaserJET 3700DN
Color LaserJET 3700N
Color LaserJET 4600
Color LaserJET 4600DN
Color LaserJET 4600HDN
Color LaserJET 4600N
Color LaserJET 4650
Color LaserJET 4650DN
Color LaserJET 4650DTN
Color LaserJET 4700
Color LaserJET 4700DN
Color LaserJET 4700DTN
Color LaserJET 5100CN
Color LaserJET 5500
Color LaserJET 5500ATN
Color LaserJET 5500DN
Color LaserJET 5500HDN
Color LaserJET 5550
Color LaserJET 5550DN
Color LaserJET 5550DTN
Color LaserJET 9500
Color LaserJET 9500HDN
Color LaserJET 9500MFP
IBM
Infoprint Color 1454 (unclear)*
Infoprint Color 1464 PS3
Konica
Bizhub C252
Bizhub C350
Colorforce 1501
Colorforce 8050
DialtaColor CF 2001 (unclear)*
DialtaColor CF 2002 (unclear)*
Ikon CPP500E
Magicolor 2200 DL
Magicolor 2210
Magicolor 2300 DL
Magicolor 2300 W
Magicolor 2350 yes
Magicolor 2350 EN
Magicolor 2400 W
Magicolor 2430 DL
Magicolor 2450
Magicolor 3100
Magicolor 3300
Magicolor 5450
Magicolor 7300
Kyocera
C2630D
FS-C5016N
FS-C5020N
FS-C5030N
FS-C8008
Mita KM-C2230
Lanier
LD238C
LP125CX/LP126CN
Lexmark
C510
C720
C752
C752N
C760
C910
C912
Minolta: see Konica
NRG
DSc38
Panasonic
Workio KXCL-500
Ricoh
Aficio 1224C
Aficio 1232C
Aficio CL 2000
Aficio CL 3000
Aficio CL 3000E
Aficio CL 6010
Aficio CL 7000
AP 206
Infotec/Danka ISC 2838
Savin
C3210
CLP35
Toshiba
eStudio 210c
eStudio 211c
eStudio 310c
eStudio 311c
eStudio 2100c
eStudio 3100c
eStudio 3511
FC15
FC15i
FC22
FC22i
FC25P
FC25Pi
FC70
Xerox
DocuColor 12
DocuColor 40
DocuColor 1521
DocuColor 1632
DocuColor 2000
DocuColor 2045
DocuColor 2240
DocuColor 3535
DocuColor 5252
DocuColor 6060
Phaser 790
Phaser 8400B (unclear)*
Phaser 8400DP (unclear)*
Phaser 8400DX (unclear)*
Phaser 8400N (unclear)*
Phaser 8440DP
WorkCentre M24
WorkCentre Pro (all models)
*EFF unsure if yellow dots are tracking, or unrelated artifacts due to printing technique
What are yellow tracking dots?
Some printers (as listed above) will secretly print a pattern of yellow dots in the background of any document a user prints off. These dots are invisible to the naked eye but when put under a microscope or blue light, they will appear. The unique pattern of dots are put through a deciphering tool to disclose information about where and when the document came from, but you wouldn't even know they were there.
The EFF claims "it is probably safest to assume that all modern colour laser printers do include some form of tracking information". Following an freedom of information request, the EFF was given a number of documents that suggested "all major manufacturers entered a secret agreement with governments to ensure that the output of those printers is forensically traceable".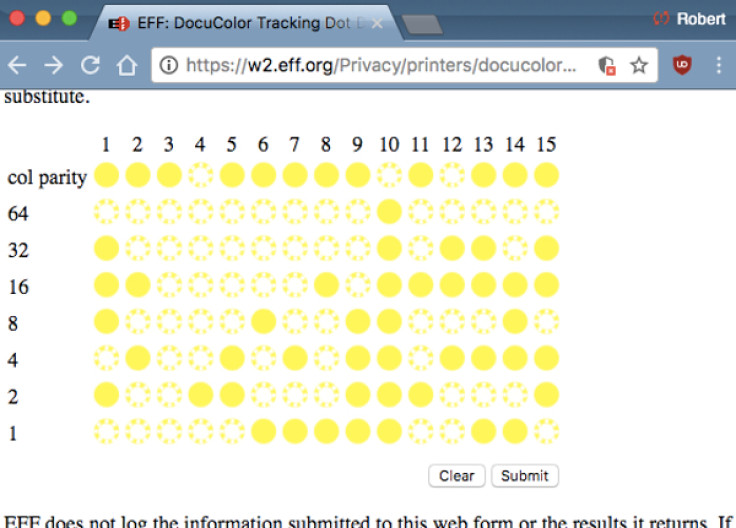 Its list of manufacturers using yellow dot tracking was created by looking at printed documents under blue light or microscope, printer manuals and manufacturer statements. It also included statements from technicians and sellers.
It states that documents printed on non-laser printers may not be subject to the same yellow dot tracking system but did not rule out other forms of hidden forensic tracking that it is currently unaware of.