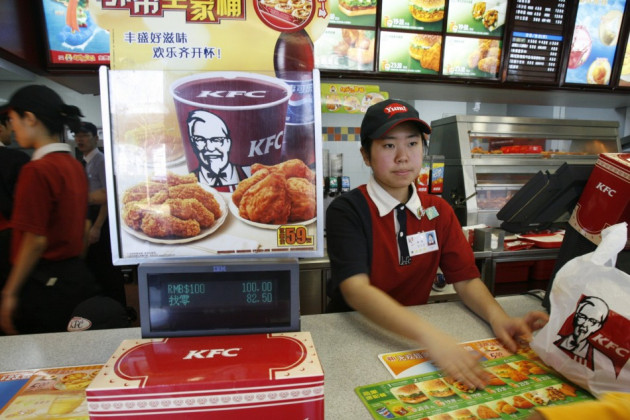 Yum Brands, which owns KFC, Taco Bell and Pizza Hut, has said that its earnings rose 23 percent in the three months ending September on the back of strong China sales.
The company, in its quarterly earnings release said its net income increased to $471mn (£294mn) or $1 per share from $383mn (£239mn) or 80 cents per share, in the previous year.
Yum Brands' Chinese operating profit grew 22 percent while same store sales increased 6 percent after the company opened 192 stores in the world's second largest economy.
Its restaurant margin in China also gained 0.1 percent to 21.4 percent. China accounts for around 40 percent of the firm's profits.
Its worldwide operating profit was up 18 percent while in the US alone operating profit surged 13 percent.
Same store sales in the US rose 6 percent as well, beating analysts' expectations of a 4.4 percent increase.
Reuters reported that the shares of the food chain rose 3.9 percent following the better than expected data release. Before the report, the company shares were down on concerns of slowing Chinese economy.
"I think this puts some fears at ease, at least for now," Investment Technology Group Inc research analyst Steve West told Reuters.
"Even through the deep, dark days of the recession and the global slowdown, (Yum) tended to beat expectations [in China]," he said.
West added that Yum's strength is its presence in various parts of China where the population is increasingly becoming interested in Western brands.
The Kentucky based company has around 4,000 KFC outlets and 740 Pizza Hut stores in China, making it the country's largest Western restaurant chain.
Yum has been focusing more on the emerging markets as the Western markets become saturated. As much as 86 percent of its recent store openings were in the developing countries. The company has 495 units in India as well.