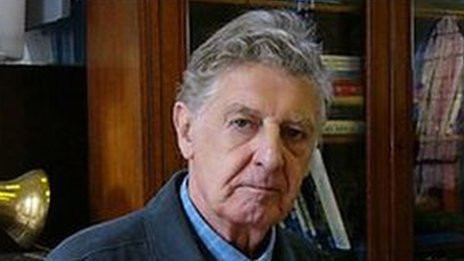 Z-Cars actor Jimmy Ellis has died.
The star died in Lincoln hospital early on Saturday, after suffering a stroke. He was 82.
The Belfast-born actor was best known for his roles in Z Cars and was seen with a young Kenneth Branagh in BBC Northern Ireland's series of "Billy" plays.
He began his acting career in 1952 at Belfast's Group Theatre before moving to England in the early 1960s.
He won his first big break when he was cast as Bert Lynch in the long running police drama set on Merseyside.
Peter Johnston, director of BBC Northern Ireland, said: "We are saddened to hear about the death of Jimmy Ellis. He was a major talent from Northern Ireland, famous for his roles in Z-Cars and the Billy plays. He will be deeply missed by all his colleagues on screen and on stage."
Aside from Z-Cars, he starred in some of the UK's best-loved programmes, including Dr Who, In Sickness And In Health, Ballykissangel and Only Fools And Horses.
Ellis was awarded an honorary doctorate from Queen's University in 2008 for services to the performing arts.
Although he had lived in England for decades, his family has said that, in accordance with his wishes, he will be buried in his home city.