Renowned Iraqi-British architect Zaha Hadid has died at the age of 65 in Miami, after a heart attack. Born and raised in Baghdad, Hadid studied in Beirut and London, where she based the architectural firm that bore her name.
Her modernist, futuristic designs included the aquatic centre for the 2012 London Olympics. She twice won the Stirling Prize for architecture and in 2004 became the first woman to win the Pritzker Prize, known as the "Nobel prize of architecture". IBTimes UK presents some of her most beautiful buildings around the world.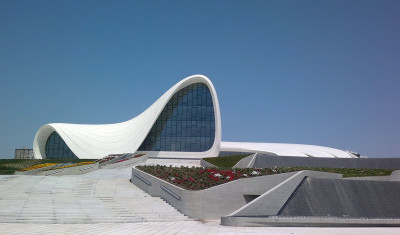 Her buildings were always talking points, and sometimes controversial. The Dongdaemun Design Plaza in Seoul was compared by detractors to an ugly spaceship that had made an emergency landing. In 2015 the Japanese government revoked her commission to build the stadium for the 2020 Tokyo Olympics.
Like all architects, Hadid sometimes struggled to have her ambitious designs built. She acknowledged that some of her early designs had posed engineering challenges. "I used to like buildings floating," Hadid told the BBC in February 2016. "Now I know that they can't float."
She was also unremittingly blunt and forthright.When she was awarded the Gold Medal by the Royal Institute of British Architects, Peter Cook said in his citation that "in our culture of circumspection and modesty her work is certainly not modest, and she herself is the opposite of modest. Such self-confidence is easily accepted in filmmakers and football managers, but causes some architects to feel uncomfortable," he said. "Maybe they're secretly jealous of her unquestionable talent."
Although Hadid said she felt something of an outsider in British architecture — a woman, a foreigner and an innovator — she was made a dame in 2012.