Bob Ross' First TV Painting 'A Walk In The Woods' On Sale For Nearly $10 Million
The painting has been listed on the Modern Artifact gallery website for a colossal $9.85 million by Minnesota art dealer, Ryan Nelson.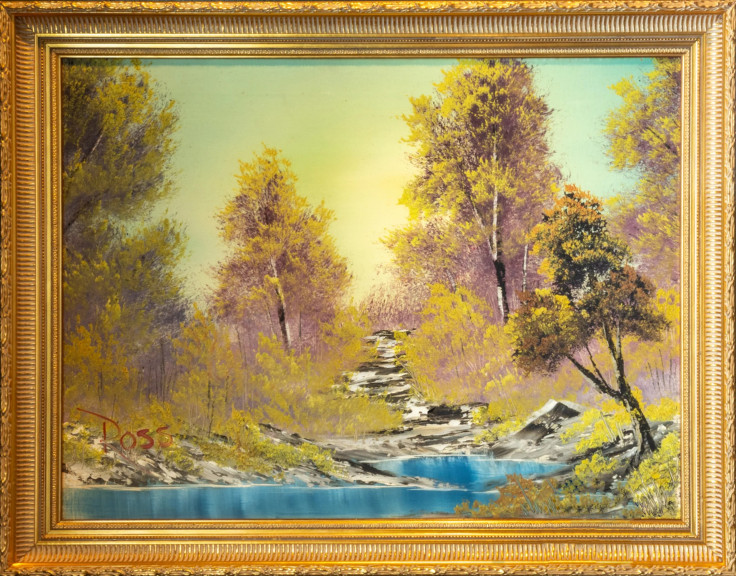 Do you happen to have a spare $10 million lying around the place while gathering dust? Are you also a huge fan of the legendary TV artist, Bob Ross? Then today might just be your lucky day.
If you meet the above requirements, then you could be the proud and wealthy owner of the very first painting ever created by Bob Ross on his immensely popular PBS show 'The Joy of Painting'.
Ross, who died in 1995 at the age of 52 from complications with lymphoma, hosted the hit TV show from 1983 until 1994.
In every episode, he would speak directly to the viewers and warmly encourage them to paint with him as he created aesthetically pleasing scenes of mountains, idyllic waterfalls, forests, rustic cabins and many more picturesque images.
He was well-known for his repeated cordial phrases, which were always spoken through an infectious smile, such as "let's add some happy little trees", or commonly citing mistakes as "happy little accidents".
Bob Ross had produced more than 400 paintings throughout the entire run of his show, with each one being completed, rather impressively, in around half an hour.
None of Ross' paintings would ever be confused for masterpieces — but that didn't matter, supposedly not even to the wholesome artist himself.
Even Bob Ross himself, on that very first show, sporting his trademark perm, full beard and unbuttoned shirt, stated that painting did not have to be so pretentious.
The artist added: "We have avoided painting for so long because I think all of our lives we've been told that you have to go to school half your life, maybe even have to be blessed by Michelangelo at birth, to ever be able to paint a picture."
"And here, we want to show you that that's not true. That you can paint a picture," Ross continued.
When the pilot episode of The Joy of Painting first aired all the way back in 1983, the charming and contagiously endearing Bob Ross painted the scene of a serene, autumnal landscape which he would subsequently dub 'A Walk In The Woods'.
Fast forward 40 years later and that same beautiful painting from Season 1, Episode 1 of Ross' beloved show is being sold for $9.85 million by art collector and dealer, Ryan Nelson.
Nelson, who is also the owner of the Minnesota-based art dealing company, Modern Artifact, acquired the painting after a volunteer at the Virginia PBS station (the same station where the first episode was filmed) sold it to him last year. He also collects other pieces of Bob Ross's art as well.
Regarding the hefty price tag he has put on the historical painting, Nelson admits his ambivalence on whether or not it will sell for that amount. However, he stands firm on his estimate.
According to Nelson, a number of people have already shown interest, adding that the demand lies less in how special the painting is, but has more to do with how special the painter behind it was.
The art dealer commented: "I feel like we owe it to everyone who reached out to probably start to put it in public spaces. To lose it right now, and not have that opportunity, when we can always sell it in the future, would probably eat me alive."
While the painting is for sale, Nelson stated that he is considering instead showcasing it at various museums and shows across the US.
Despite his premature death in 1995, Bob Ross remains widely known in the contemporary art community, mostly due to his prominent, posthumous internet presence and various parodies.
His vibrant personality and genuine love of painting, combined with his calm and relaxed approach to his work, undoubtedly won the hearts of countless people around the world.
When questioned by a fan regarding his mellow mood, he said: "I got a letter from somebody here a while back, and they said, 'Bob, everything in your world seems to be happy.' That's for sure. That's why I paint."
"It's because I can create the kind of world that I want, and I can make this world as happy as I want it. Shoot, if you want bad stuff, watch the news."
© Copyright IBTimes 2023. All rights reserved.