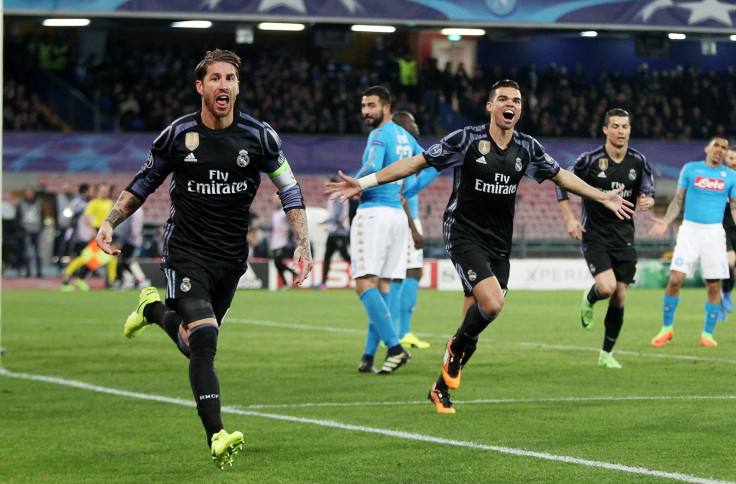 Real Madrid may have beaten Napoli 3-1 on Tuesday night (7 March) to go through to the Champions League quarter finals 6-2 on aggregate, but manager Zinedine Zidane was still forced to defend his superstar attackers after they were once again accused of lacking defensive commitment.
Pundits in Spain, prior to the match, had suggested that Zidane should drop one of the 'BBC' (Gareth Bale, Karim Benzema and Cristiano Ronaldo) and include an additional midfielder in a 4-4-2 formation. Real Madrid enjoyed one of their best performances of the season at the weekend, beating Eibar 4-1 in La Liga with Bale and Ronaldo replaced by James Rodriguez, Marco Asensio and Lucas Vazquez alongside Benzema.
However, Zidane stuck with his traditional attacking trio and promptly saw his team go into the break 1-0 down as Napoli dominated the first 45 minutes.
However, the Frenchman has previously admitted the BBC are untouchable for key matches when available, and he refused to single any of them out for Real Madrid's poor first half.
"Gareth helped Dani in the defensive aspects, as did Cristiano. It's all about the whole team, we didn't start well in the first half. We did a good job in the second. We're a group and Gareth and Cristiano helped us a lot," he said.
Sergio Ramos came to Zidane's rescue in the second half by scoring two goals (the latter was deflected in by Dries Mertens), before Alvaro Morata netted a late third to wrap things up.
"We discussed the same things as we always do at half-time. You have to change things if the opposition are causing your problems in the first half. We had to push a bit higher up and be more compact," Zidane said when asked what was his message to the dressing room at half-time. "We scored twice from set-pieces, but they're part of the game as well. We had a lot of opportunities to score, in the first half too. We're pleased to have Sergio here, every now and then he comes up with a goal with his head".
"We were made to suffer a lot in the first half, particularly in the early stages, when we weren't doing what we wanted to and they were applying a very high press. We improved things after the break and performed a lot better. We spent more time in their half and pressed higher up the field. We're pleased with how we've performed in the tie,"
"We're capable of doing better than we did in the first half and we'll have to do so. Coming here and being put under the pressure that they put us under, we knew that we might struggle. The game is played over 90 minutes and we did very well in the second half. We can't be happy with the first-half display but I have to be pleased with our second-half performance, in which we got the three goals."