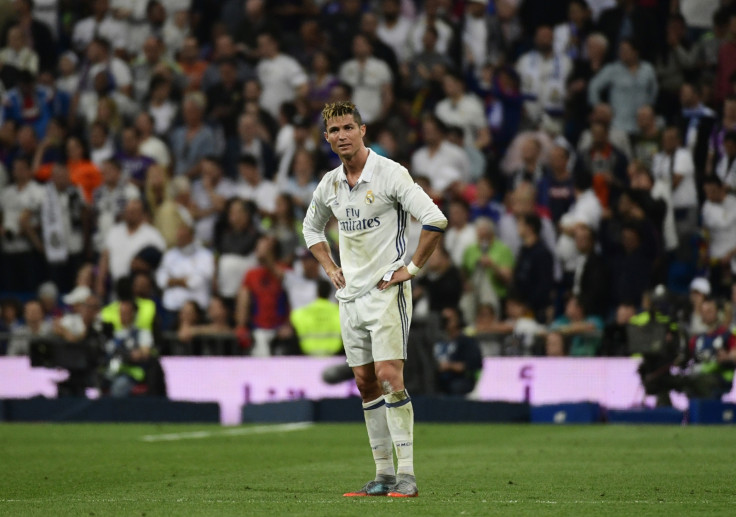 Zinedine Zidane has admitted he faces a major dilemma in his Real Madrid line-up to face Valencia on Saturday (27 April) after his fringe players led Los Blancos to an impressive 6-2 victory over Deportivo la Coruna on Wednesday – just days after Cristiano Ronaldo and co lost 3-2 to Barcelona at the Santiago Bernabeu.
The Real Madrid boss left the Ballon d'Or winner, Toni Kroos and the suspended Sergio Ramos out of his squad for the trip to Deportivo, despite Gareth Bale, Pepe and Fabio Coentrao all being out due to injury.
The decision paid off as 'Real Madrid B' stepped up to keep the pressure on Barcelona in the battle for La Liga with an emphatic win thanks to the goals from James Rodriguez (two), Alvaro Morata, Isco, Lucas Vazquez and Casemiro.
However, the victory has also reopened a debate in Spain amid suggestions Los Blancos' fringe players are more effective than Zidane's BBC trident formed by Ronaldo, Bale and Karim Benzema.
The Real Madrid boss admitted that his "possibles" are giving him a big headache but Ronaldo et al are expected to be back against Valencia to get some game time before next week's Champions League semi-finals with Atletico Madrid.
"It is always difficult to choose a line-up as I have an extraordinary squad and they're all focussed. Every game in La Liga and the Champions League we play, the team stand out not just for their quality but their focus and professionalism. We are all in the same boat. Everyone has an opinion on who plays, but I'm the one who decides and it is difficult for a coach," Zidane said in the press conference ahead of the visit of Valencia.
"I know everyone has their own opinion, but I am the coach of Real Madrid. I'm only concerned with Real Madrid and my players. You might think that is unfair, but I don't see it that way. Quite the contrary. I have immense respect for my players. There are situations at other clubs where the substitutes don't play a single minute or perhaps only when the coach needs them and says so. For me there are all important and I'm showing the entire squad that. For me there is no plan A or plan B".
However, Zidane did admit it would be difficult to drop Isco as the Spaniard is arguably the most in-form player in his squad.
"I played almost all the time and missing out is a complicated thing to deal with. I try to say the right things to them because telling them a load of rubbish doesn't help anyone. Isco is focussed and has his coach's backing. We will keep on like this and let's see what happens next year," he said.
The current Champions League title-holders will host Atletico Madrid for the first leg of the Champions League semi-finals on Tuesday. However, the Valencia clash is also crucial as Barcelona are currently leading La Liga on head-to-head – although Los Blancos still have a game in hand.
"We still have a month and a half to get through and we're convinced we can do it. Every season there are moments when you suffer and there are difficulties but we can be happy with what we are doing," Zidane added.
Meanwhile, Bale, Pepe and the injury-prone Coentrao remain on the sidelines and the trio are also expected to continue in the treatment room for the Champions League derby with Diego Simeone's side.
"Pepe is slightly better," Zidane said when asked whether the Portugal international will return to action ahead of May. "His ribs hurt a lot, but he is doing better. I hope that before the end of the season he will be back playing. That is the idea."
Meanwhile, speaking about Coentrao, the boss added: "He has a slight issue. It is nothing too serious. He is the most annoyed with the situation. He came back and felt like a player again. But now he has another injury and that is holding him back. I think it is to do with his back and is not linked to his previous issue."