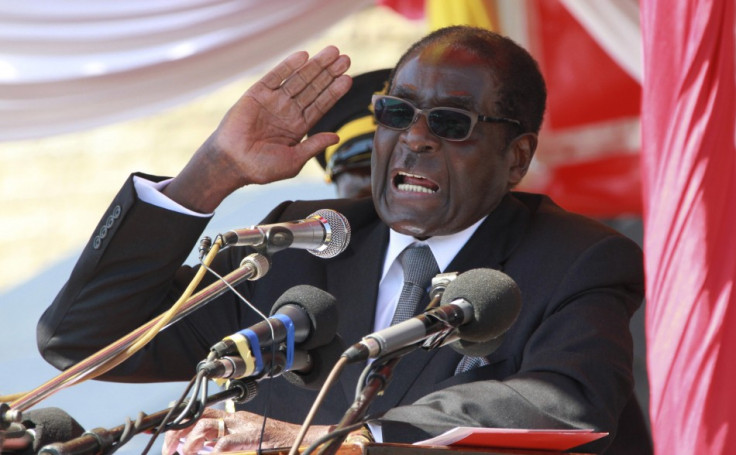 With revelations that Zimbabwean President Robert Mugabe has prostate cancer that may kill him within two years, the race for succession in Zimbabwe is set to get even more heated.
According to a diplomatic cable posted by WikiLeaks central bank Governor Gideon Gono told the U.S. ambassador to Zimbabwe James McGee in a meeting in June 2008 Mugabe had been told by his doctor he had between three and five years to live because of a "prostate cancer that has metastasized," according to the cable.
Gono, one of Mugabe's closest friends however reportedly denied he is the source of the information when called today by Bloomberg News while Mugabe's office was not immediately available for comment.
Mugabe, 87, in power since Zimbabwe's independence in 1980, has had health problems in recent years and reportedly visited Singapore several earlier in the year for cataract operations and follow-up treatment.
Zimbabwe is reversing a decade of recession triggered by the collapse of farming when Mugabe's government began seizing white-owned commercial farms in 2000.
Reports from Zimbabwe suggest that some Cabinet Ministers and Zanu PF officials mentioned in the leaked diplomatic cables were called in President Mugabe's office and asked to explain the allegations, while others affirm Gono has been suspended from Joint Operation Command as a result of the leak.
As many fear Mugabe's reaction rumours emerging also hint at the possibility of the Central Bank Governor leaving the country or taking refuge in a Western embassy.
With Mugabe's ailing health now apparently confirmed by the cable, the succession race is set to intensify as members of the Zanu PF will battle for pole position, while the opposition, led by Morgan Tsvangarai will also want to gain more political space.
Tensions between Mugabe and Prime Minister Tsvangarai have always run high and the potential prospect of presidential elections has only increased the rivalry between the two men. While Mugabe is pushing for the coalition government, to hold elections this year, Tsvangirai, and regional leaders are opposing the move insisting the country first need a new constitution.
Within Zanu-PF, one of the man seen as a potential candidate to Mugabe's succession Solomon Mujuru, a former army chief and husband of the current Vice President Joyce, died in a mysterious fire at his farm in July.
Coincidently, Gono and his family recently escaped a fire at their farm, located in Harare.