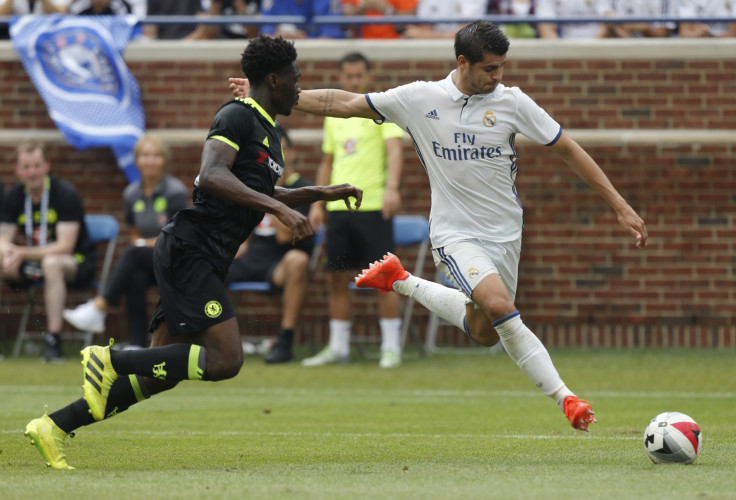 Real Madrid manager Zinedine Zidane has confirmed that coveted Alvaro Morata is going to stay at the Santiago Bernabeu, despite the recurrent links with the likes of Chelsea and Arsenal. Meanwhile, the French boss admitted that Jese Rodriguez is in negotiations to move to Paris Saint Germain while refused to close the door to a potential future move for Eden Hazard.
Morata became in one of the hottest properties of the transfer window earlier in the summer when emerged that Los Blancos were ready to resign him from Juventus by activating a €30m (£25.3m, $33.3m) buy-back clause, but only to automatically sell him to the Premier League for a profit.
The player's agent, Juanma Lopez, confirmed then that the 23-year-old had received offers from "top clubs in England" to move to the Premier League.
A number of reports claimed that Chelsea and Arsenal were the two clubs battling for his services, as both Antonio Conte and Arsene Wenger have admitted publicly that they are looking to strengthen their attacking strength.
Yet earlier last month, AS reported that Real Madrid told the London clubs to forget about Morata's signing, after Zidane had decided to keep the striker in his ranks for the new campaign to back-up the BBC trio formed by Gareth Bale, Karim Benzema and Cristiano Ronaldo.
Zidane has now confirmed his intentions despite the striker has failed to make the impact expected so far during the first games of the pre-season while covering the absence of injured Benzema.
"Morata is a Real Madrid player and we are very happy to have him home and he will be with us this year," Zidane said in the press conference after a 3-2 victory over Chelsea. "He has just started. He is happy, finding his feet and needs time and work. He looked good in terms of what we want: depth, fight and helping out the defence. I am happy with him".
The continuity of Morata will force Jese to move somewhere else in a bid to secure more regular time.
The Sun recently reported that Arsenal themselves and Liverpool were closely monitoring the situation ahead of luring him to the Premier League. However, as previous reports in Spain broke, Zidane has claimed that he may move instead to the Ligue 1 giants.
"It seems that PSG are talking about Jese but we don't know anything. The idea was for him not to play today," the boss said after Jese missed the win over Chelsea.
Real Madrid have been surprisingly quiet during a current transfer window in which the return of Morata has been the only addition to Zidane's ranks. They have been tipped to make a new galactico move for Paul Pogba, but all the indications suggest that they will miss out him to Manchester United.
Hazard, meanwhile, has been also linked with Los Blancos since Zidane appointment as the French boss has never hidden his admiration for the Chelsea attacker. The manager reopened those talks after claiming that every team would like to have a player like the Belgium international although it looks unlikely that Real Madrid will try his signing during the current transfer window, as they already have a number of player in his position.
Zidane said:"He (Hazard) is a very good player and every team wants the best players. He is a Chelsea player and I can't say anything more. We know his capabilities and he showed his quality in the short time he was on the pitch today."