After a catastrophic 2012, during which Zynga lost revenue, staff, IPs and consumer confidence, the ailing social game maker's fortunes finally seem to be on the turn.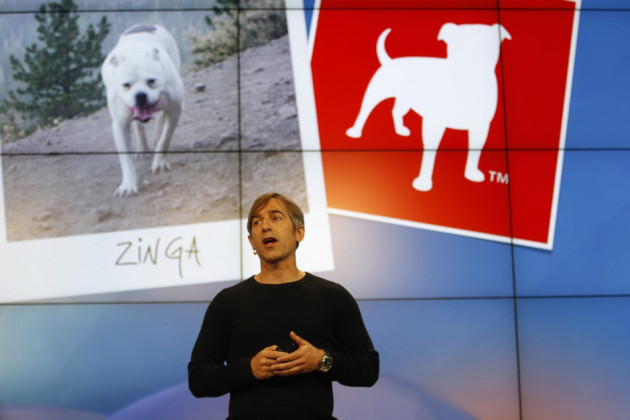 Since the start of 2013, Zynga's stock has risen by a massive 67 percent, starting at $2.39 (£1.60) on 7 January closing yesterday, 12 March, at $3.77 per share. It's a turnaround spurred by a massive corporate restructuring plan, which has seen Zynga close several of its big games, and a long-term reinvention strategy whereby, over the next two years, the company will move away from casual and social games and into real-money gambling (RMG).
Zynga has already applied for preliminary approval to run RMG games from Nevada, though the license takes 18 months to process. In the meantime, it is launching two big gambling sites in the UK; Zynga Plus Poker and Zynga Plus Casino. Through a recently announced partnership with gaming giant bwin, Zynga is looking to reposition itself as an real-money gambling provider, beginning in the UK, where gambling is legal.
As reported - and roundly discredited - by the Wall Street Journal, there is also speculation that Zynga's stock hike may be the result of a possible merger with web service provider Yahoo. On paper, it seems like a good fit. As reported by Reuters, Yahoo CEO Melissa Mayer is frustrated with the company's lax hiring practices and is looking to shore-up her staff with more talented engineers.
Zynga certainly ticks that box - it might be down on its financial luck, but it's nevertheless packed with designers responsible for games like Mafia Wars and FarmVille, making it a now-cheaper-than-ever resource for quality staff.
Also to keep in mind is Mayer's policy of redesign. Since joining Yahoo last July, she's overseen overhauls of Yahoo Mail and picture-sharing service Flickr. Perhaps Yahoo's gaming wing could be the next to undergo a reshuffle and having Zynga on board would certainly go some way to making that happen.
There are, however, several reasons why a merger with Yahoo wouldn't work for Zynga and it's unlikely that CEO Mark Pincus would consider it.
Real money
But first, let's look at Zynga's real money gambling strategy. It represents a change of tack for both Zynga and Pincus, who, at the end of 2012, was "honoured" by Washington Post writer Sydney Finkelstein as the fourth worst CEO of the year. Finkelstein criticised Pincus for his rash decision to purchase Draw Something maker OMGPop for $180 million, but the move toward RMG games represents anything but hastiness.
Far from the month-long flash-in-the-pan that was Draw Something, bwin's stock has held steady throughout 2013, never dipping below £1.01 and peaking at £1.60. It's not an enormous, popular spark like OMGPop, but in regards to a long-term turnabout strategy, a partnership with a steady company like bwin, which between 2010 and 2011 saw its net revenues rise from €357m to €674m, puts Zynga in a much safer position.
So, that's good, but despite the knee-jerk stock reaction to the bwin news, Zynga faces a very long process of repositioning. Not only does it have to wait for approval from Nevada, it also has to begin all over again to market itself to consumers. In the past, with its catalogue of colourful Facebook games, Zynga was a company aimed primarily at casual gamers. Now, as it moves towards the RMG market, it needs to appeal to different people; dads instead of mums, adults instead of children.
There's already an ominous 18+ symbol on both of Zynga's UK sites, signalling that, from hereon, the company is aiming at a very different market. This means a different advertising strategy and also, in the long-term, a disassembling of Zynga's existing IPs. FarmVille and CityVille have been hemorrhaging users anyway (CityVille 2 has already been shut down) and if Zynga has learned anything from 2012, it's that spreading its business across dozens of different games is a recipe for disaster.
If it's going to commit to a leaner model, it needs not only to publicise and pump up its RMG offerings, but discontinue a lot of its existing casual games. Essentially, Zynga needs to completey restyle itself in the public eye; this is an RMG company now.
Yahoo
Back to that Yahoo deal. Aside from the potential benefits to Yahoo itself, in the shape of Zynga's gaming history and designers, it's unlikely Pincus will want to tie the company to another big brand like Facebook. Despite giving Zynga a prominent, pre-installed userbase when the company started out, the 30 percent cut that Facebook collected on all Zynga's revenues became a massive drain, leading to November last year, when Zynga renegotiated to be allowed to make its games for sites other than Facebook.
Though Yahoo's 700 million strong user base would give Zynga a big, ready audience for its new range of RMG games, it would also leave the company in another situation where it was sharing revenues. If Pincus is trying to trim Zynga down and streamline it - collecting less revenue but putting it all into Zynga - then wrapping it around a big name like Yahoo doesn't, at the moment at least, make much sense.
Whether confidence in Zynga's stock will remain so high, is unclear. The company is off to healthy start in 2013, the share hike providing, a shred of good news at last. However is should be remembered that in the bigger pciture, Zynga's stock is still a long way off the $10 share price is floated at in December 2011.
After a disastrous year, Zynga seems to be on track to rebuild its gaming business. If it's going to keep this momentum up, it needs to convince consumers it's committed to RMG games and remember its limits. Big investments and big mergers might be on the cards again in the future, but for now, Zynga just needs to survive.