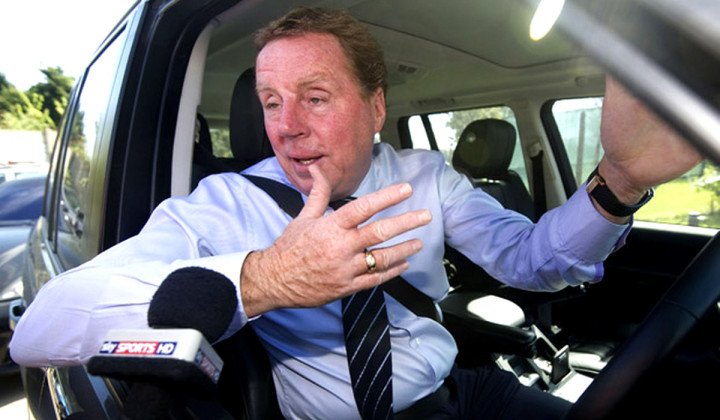 Today is the day a summer of rampant speculation, misinformation and crossed wires comes to a head for a final 23 hours of escalating chaos: Transfer Deadline Day.
Will Arsenal buy a striker? Will anyone buy Falcao? Will Manchester United purchase the five or six players they need?
Transfer Deadline Day is the day we find the answer to those questions is probably no. But we're not in it for the results or the inevitable disappointment, we're in it for the ride.
Here are ten signs that Transfer Deadline Day will never change...
---
1. 'Arry Leaning Out His Car Window
With Harry Redknapp back in the top flight after a year's absence, you can be sure the moment he pulls up at QPR's training ground in his Range Rover, the Sky Sports News cameras will be ready to listen intently as he yammers on about the "triffic-ness" of it all.
2. Helicopter Hunts
One of the great Transfer Deadline Day stories of our time saw Fernando Torres make a £50m move from Liverpool to Chelsea. As the news gathered steam, football fans and news reporters alike looked to the skies in search of a helicopter heading toward Chelsea's training ground in Cobham.
Now it happens with every last gasp transfer, but why stop at a private chopper? We want players arriving on horseback, on tandem bikes with their agents, catamarans and in Apache gunships.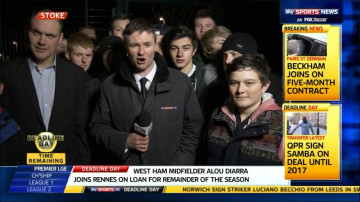 3. Gormless Fans Hounding Reporters
The roving reporters of various TV outlets will be seen hanging around the hot spots of English football, popping up frequently throughout the day largely to say that not a lot is happening. As the sun sets and skies darken, however, so slack-jawed fans will gather around the TV camera's bright lights.
Reporters will insist they calm down but they really don't know any better, moving closer to the camera with each second, and one will inevitably take the opportunity to fire off a profanity at their closest rivals.
4. Flagrant Misuse Of The Breaking News Graphic
Twenty-four hour news outlets use their "Breaking News" graphics more often than they should anyway, sometimes hours after a story has actually broken, but on this day everything is amplified. News of varying size (most of it boring) breaks at such speed that Breaking News starts burning itself into your television screen.
5. Transfer Stories That Refuse To Die
Vidal. Vidal Vidal Vidal. Arturo Vidal. Each transfer window there is always a story, usually baseless, which refuses to go away. The club involved might conduct other business, the player might event deny it, but the story lingers like Peter Odemwingie (more on him later) in a QPR car park.
This year, the subject of that story is Monaco's Radamel Falcao, who reportedly has been linked with Manchester City, Real Madrid and Arsenal. Will he move? Possibly. But as the mantra of Deadline Day goes, you never know.
6. Made Up Stories Gaining Traction
As soon as the #DeadlineDay hashtag first begins to trend on Twitter, a legion of witty types (myself proudly included) will be there to make a joke of some variety about seeing Sami Khedira eating a sausage roll outside the Emirates Stadium. Invariably one these stories will gain some sort of traction, making its way to a respectable news proprietor where it is promptly shut down (hopefully).
7. Disappointed Arsenal fans
Arsenal signed Mesut Ozil last year and they (okay, we) still moaned.
8. Players Tweeting Desperate Escape Pleas
Some players will find themselves waking up this morning feeling like they're being "held to ransom" by the club paying them an inordinate amount of money every week. As time ticks away they'll become desperate, taking to Twitter to make thinly-veiled suggestions that they want to escape.
This year's likely candidate: Morgan Schneiderlin.
9. "Sky Sports Sources"
"Sky Sports Sources" is a phrase that carries about as much weight as a flea's ghost, but it's one you'll be hearing a hell of a lot of during the course of the day. If you've already had enough of it, probably best to stick to a live blog.
If you're making a Deadline Day drinking game, we also suggest not making a rule for this phrase unless you particularly like A&E.
10. Peter Odemwingie's Deadline Day Road Trip
Last year, Peter Odemwingie was reportedly seen outside QPR's Loftus Road thinking a deal had been struck for his services between them and his then-club West Brom. No such deal had been made, so Odemwingie hung around in the car park in the hope his dream move would be made. He now plays for Stoke.
This was a one-off so we're cheating a bit, but we'd love it to happen again.