France's biggest rock star Johnny Hallyday, who was dubbed the French Elvis, has died after a battle with lung cancer aged 74. Here are 10 things you (probably) didn't know about him:
Johnny Hallyday had staying power
Hallyday, born Jean-Philippe Smet in 1943 in occupied Paris, decided to be a singer after seeing the Elvis Presley film Loving You in 1957.
His career took off three years later and he ended up selling 110 million records during more than half a century in the spotlight.
Francophone appeal
Much of his appeal lay in his ability to interpret English rock and roll classics for a French audience, such as the Animals' version of House of the Rising Sun and Jimi Hendrix's Hey Joe. He used this ability to become a household name across the French-speaking world.
But even with his gravelly voice, good looks and piercing blue eyes he never managed to break into the lucrative UK and US music markets. American newspaper USA Today once called him "the greatest rock star you never heard of".
Rock star life
He was known for partying, drugs, alcohol and a love of dark tobacco, which he apparently adopted on the advice of Rolling Stones rock icon Keith Richards.
Family man
Hallyday was married five times in an eventful life. He was twice married to the same woman, Adeline Blondiau, whom he first wed in 1990 when she was just 19.
His last marriage, to 21-year-old Laeticia Boudou in 1996, was his longest. The couple adopted two Vietnamese daughters, Joy and Jade. He also fathered two children from earlier marriages, David Hallyday and Laura Smet.
Movie star
The singer appeared in 34 movies from 1955 to 2017, including crime drama Detective, directed by Jean-Luc Godard, and comedy Family Business, directed by Costa-Gavras, both in the 1980s.
Swiss tax exile
The singer drew criticism from French politicians in 2006 after choosing to dodge French taxes by going to live in Switzerland, saying he had had enough of being "fleeced" back home.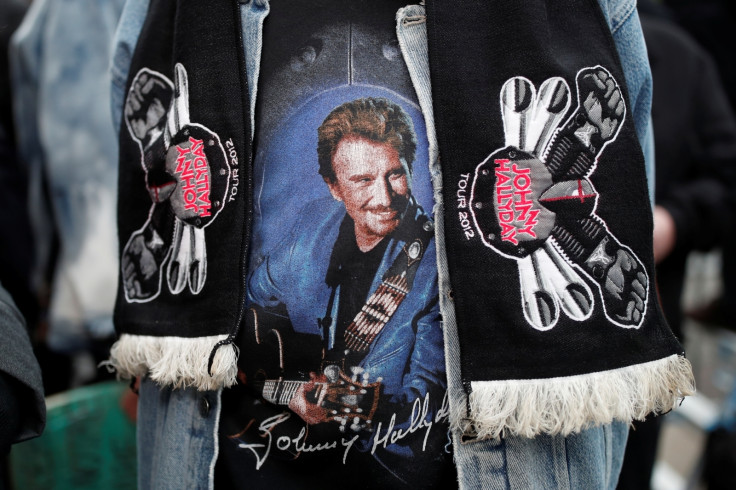 Rock star tributes
Lenny Kravitz and Celine Dion were among the musicians who were quick to pay tribute to the singer.
Lenny Kravitz tweeted:
A tweet by Celine Dion read:
Belgian tribute
All 69 stations of the Brussels metro are playing the songs of Johnny Hallyday, who was born to a Belgian father and French mother, throughout today (6 December).
Still packing them in
Hallyday remained a draw late into his career. His 2011 album, Jamais Seul, went straight to No 1, selling 100,000 copies in its first week.
His last free tour, 100% Johnny: Live à La Tour Eiffel in 2000, attracted a live audience of 750,000 and was watched by 10 million viewers live on French television.
Presidential confidante
President Charles de Gaulle was so disgusted at Hallyday's effect on French youth in the 1960s that he said his fans should be drafted into roadgangs "because they clearly have too much energy to spare".
President Jacques Chirac made him a Chevalier of the Legion D'Honneur in 1997.
President Emmanuel Macron on news of his death said: "There is a little bit of Johnny in all of us."