As many as 10,000 civilians have fled the battleground of eastern Aleppo as Assad regime forces continue their advance into key rebel-held districts.
The UK-based Syrian Observatory for Human Rights said the huge numbers of refugees had left eastern Aleppo and the Kurdish held-north for the relative safety of the government areas in the west of the city.
The Syrian and Russian governments have given more conservative estimates of the number to have fled. Syrian State media has claimed 1,500 have left with Russia saying 2,500.
There are believed to be 250,000 civilians still inside eastern Aleppo. The city was Syria's most populous prior to the revolution against President Bashar al-Assad in 2011 and subsequent civil war.
The Syrian Observatory for Human Rights said 124 people were killed in one day (26 November) during the 14-day-long assault by the Syrian army on the eastern part of Aleppo. It said at least 40 of those killed were civilians. Thirty members of pro-Assad forces were killed in the clashes, including those belonging to militias loyal to Damascus.
Reuters reported that the pro-regime forces captured the rebel area of al-Shakour. By taking control of the key district, the army is one-step closer to splintering opposition held Aleppo into two halves. Syrian State television reported the military was now clearing the area of mines.
President Assad has said he will completely take back every part of Syria lost to rebel forces. The attention of the Syrian regime and its Iranian and Russian backers has been principally on Aleppo.
The Syrian regime resumed its attacks to recapture eastern Aleppo on 15 November after a week-long pause in bombardment and shelling. The air strikes were described as the most intense ever.
"The revolutionaries are fighting fiercely but the volume of bombardments and the intensity of the battles, the dead and the wounded, and the lack of hospitals, are all playing a role in the collapse of these frontlines," said a member of Jabha Shamiya, one of the largest rebel groups fighting in the city.
With the exception of rare offensives, deadly stalemate has endured in Aleppo for years along a front cutting east and west and creating a protected siege in the east. The UN and other international organisations have regularly warned against humanitarian catastrophe in the city, where food and medical supplies are scarce.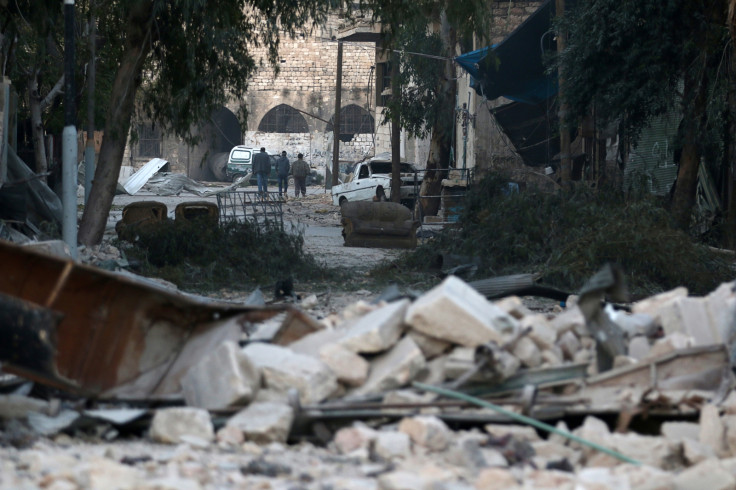 Latest dramatic photos from inside east Aleppo as Russian-backed government forces make huge gains