A 13-year-old schoolboy has been arrested following an attack on a male teacher and schoolgirl with a 'bladed weapon' at a secondary school in Malvern, Worcestershire today (8 September). Both victims were treated at the scene for minor injuries.
Students at the 1,500-pupil Chase Technology College were reportedly locked in their classrooms for 45 minutes as a result of the incident, which took place at 08:45 this morning.
The suspect fled the scene, leading to a major police search before being apprehended aboard a train just before five o'clock this afternoon. The boy - described as being five foot three, with spectacles and short, spiky hair - was on a train travelling from Hereford to Malvern. A 16-year-old former Chase College student, Leah Johnson, said when the train stopped at Ledbury an officer was waiting for the boy.
"The policeman was pacing up and down," said Johnson. "The doors opened and he just said 'can you come with me?' and he walked off with him."
The boy is being held at Worcester Police Station. One parent at the school gate said:
"You don't expect this sort of thing to happen in Britain, let alone a place like Malvern. It's been a nightmare getting any information from the police or the school. I went and collected my daughter straight away when I heard what had happened. She was not in the class where it happened but it's shaken her. She's been in tears and says she saw dozens of kids screaming and police everywhere."
In a statement the school said: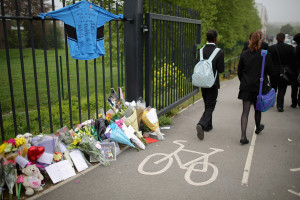 "The police attended the school promptly and have assisted the school throughout the course of the day, enabling our lessons to return to normal by mid-morning. I would like to praise our students and staff for remaining calm and continuing with their education throughout today. The school will be open tomorrow and will continue to operate normally."
Earlier this year Sky News reported that almost 1,000 pupils had been found in possession of weapons including knives, axes and even guns in the last three years. The youngest child caught with a weapon was just eight.
On 28 April Leeds teacher Ann Maguire, 61, was stabbed to death in her classroom in front of her class of Year 11 students. A 16-year-old boy, who cannot be named for legal reasons, will go on trial for her murder in November.