The 1975 singer Matt Healy says dating Taylor Swift would be an 'emasculating thing'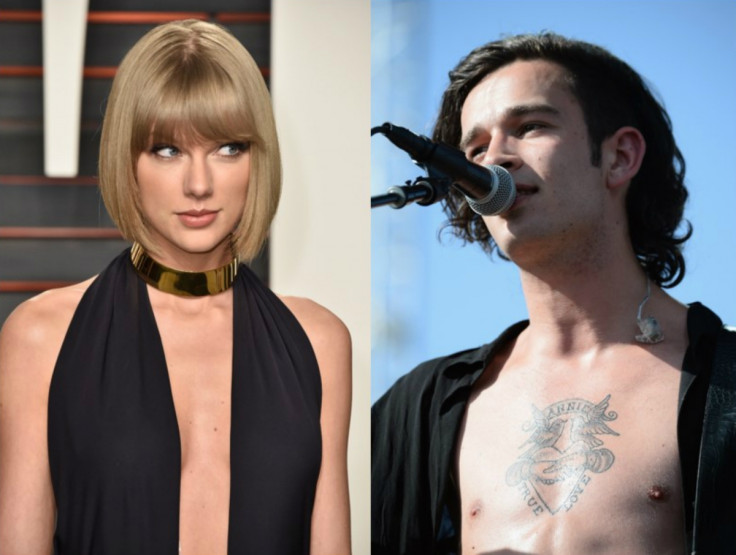 They were rumoured to have dated in the past but The 1975 singer Matt Healy is actually quite happy not to be in a relationship with Taylor Swift. The British rocker admits he would find it "emasculating" to date the US pop star given the global extent of her fame and success.
Swift, who is currently in a relationship with DJ Calvin Harris, was linked to Healy, 26, in November 2014 but nothing amounted from their flirtation. Reflecting on what could have been, Healy says he is relieved not to be known simply as the boyfriend of an incredibly famous pop star. In an interview with Q magazine, Healy said: "So the one time I did have a flirtation with a girl it ends up going everywhere...
"I mean, I got on E! News and people were like, 'Who's Matt Healy?' so that was cool. But I didn't make a big deal out of it myself. It's not really anything to talk about, because if she wasn't Taylor Swift we wouldn't be talking about her. She wasn't a big impact on my life."
He continued: "It's just interesting to me how interested the world is about Taylor Swift. The reason I mention that is because if I had [properly] gone out with Taylor Swift, I would've been, "'F***ing hell, I am not being Taylor Swift's boyfriend'. You know, "F**k. That. That's also a man thing, a de-masculinating, emasculating thing."
Romance rumours between the musicians were fuelled when Swift was seen wearing a T-shirt with The 1975 written on the front, before later attending the band's gig. Healy added fuel to the speculation by telling an Australian radio host: "I met Taylor Swift, that was really nice. We exchanged numbers. Let's see what happens."
In February 2016, reports suggested that Healy had used the Bad Blood singer as inspiration for The 1975's song A Change Of Heart, which features on their chart-topping second album I Like It When You Sleep, For You Are So Beautiful Yet So Unaware Of It. Lyrics include: "You said I'm full of diseases/Your eyes were full of regret/And then you took a picture of your salad/And put it on the Internet." However, a source denied the song was written about Swift, telling the New York Post's Page Six: "She may have inspired some of it, [but the song] is about more than one girl."
Swift and boyfriend Harris, 32, celebrated their one year anniversary earlier in March and marked the milestone with a romantic beach holiday.
Listen to a preview of The 1975's A Change Of Heart:
© Copyright IBTimes 2023. All rights reserved.