$2.1bn needed to avoid catastrophic famine in war-torn Yemen
3.3 million people - including 2.1 million children - have been left starving by Yemen's two-year-long conflict.
The UN is appealing for $2.1bn (£960bn) in funding to give food and emergency assistance to 12 million Yeminis left on the brink of famine following two years of bitter, sectarian civil war in the country.
As a result of a deadly stalemate between Iran-backed Houthi rebels and the Yemeni government in Sana, backed by Saudi Arabia, the UN has warned millions are starving.
"The situation in Yemen is catastrophic and rapidly deteriorating," Jamie McGoldrick, UN humanitarian coordinator in Yemen, said in the appeal document.
"Nearly 3.3 million people – including 2.1 million children – are acutely malnourished," he added.
Children have borne the brunt of the violence. An estimated 63,000 Yemeni children died last year from preventable causes often linked to malnutrition, the UN Children's Fund (Unicef) said last week.
Reuters reported at least 10,000 individuals have been killed in the fighting in Yemen, the poorest country in the Arabian Peninsula. Saudi air forces, which have carried out frequent air raids over Yemen, have been accused of indiscriminate bomb attacks and of targeting civilian buildings.
"Ongoing air strikes and fighting continue to inflict heavy casualties, damage public and private infrastructure, and impede delivery of humanitarian assistance," read the UN's appeal document. "The Yemeni economy is being wilfully destroyed," it added.
Britain has been accused of ignoring the humanitarian situation in Yemen and of being complicit in Saudi bombing. Amnesty International has said Britain has licensed arms worth billions of pounds to Saudi Arabia. The arms sent to Saudi Arabia from the UK include cluster munitions which are devastating to civilian populations living in built-up areas.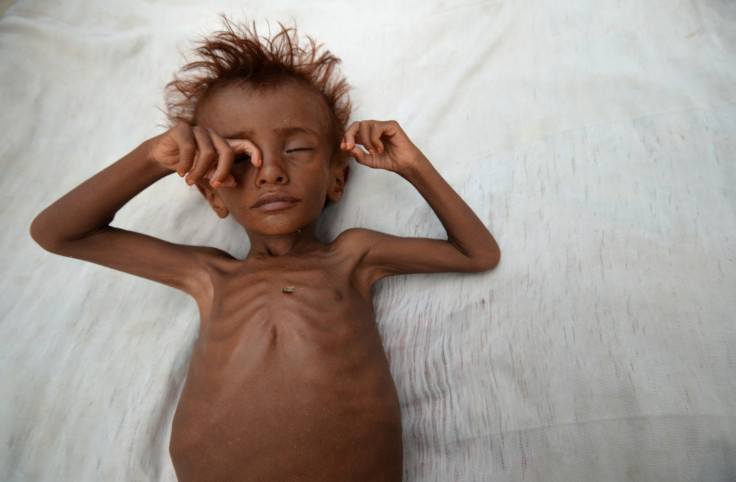 The Norwegian Refugee Council (NRC) has leant its voice to the UN's appeal. "In Yemen, if bombs don't kill you, a slow and painful death by starvation is now an increasing threat," said NRC Secretary General Jan Egeland.
The NCR added that a de-facto blockade of all imports into Yemen by Saudi Arabia was turning Yemen into a country where an entire population soon will be dependent on assistance.
For its part the UK's Department for International Development has said it secured $100m [approximately £80m] in new funding for Yemen in September last year.
"Last year, UK aid ensured life-saving food, medical supplies, clean water and emergency shelter reached more than one million Yemenis in desperate need across the country and we will once again be supporting this new appeal," Development Secretary Priti Patel said in a statement.
© Copyright IBTimes 2023. All rights reserved.