2 more US aircraft carriers join USS Ronald Reagan in the Pacific ahead of Trump's East Asia visit
USS Theodore Roosevelt and USS Nimitz joined the USS Ronald Reagan-led strike group operating near the Korean peninsula.
The USS Theodore Roosevelt and USS Nimitz aircraft carriers recently joined the USS Ronald Reagan-led strike group operating near the Korean peninsula as President Donald Trump prepares to visit East Asia in a few weeks.
The arrival of the two aircraft carriers off the Korean peninsula also comes at a time when tensions between the US and North Korea are at an all-time high. The move is expected to further infuriate the Pyongyang regime, which has threatened to turn US' Pacific territory, the Guam Island, into ashes.
The two warships joined the US Navy's 7th Fleet area of operations in the Pacific, which covers the eastern Indian and western Pacific oceans, according to announcements made by the Navy earlier this week, CNN reported.
"USS Theodore Roosevelt is prepared to carry out the full spectrum of possible missions, from humanitarian relief to combat operations," the vessel's commanding officer, Captain Carlos Sardiello, was quoted by RT news as saying.
The Navy announcements reportedly does not give any specific missions for the Roosevelt and Nimitz, but defence experts believe the presence of three aircraft carriers in the region would send a strong message to North Korea as well as its ally China.
"It is a major projection of force any time a carrier moves into a region," Adam Mount, a defence analyst and senior fellow at the Federation of American Scientists told CNN. "US adversaries will read something into it."
USS Ronald Reagan has already taken part in several joint naval drills with South Korea and Japan in a show of force against the Kim Jong-un regime in North Korea. Kim blasted Trump over the military exercises and repeated his threats to destroy the US and its territories.
Meanwhile, Trump is poised to set out on his five-nation trip to East Asia — his first as the president of the US — next week. In addition to attending the Association of Southeast Asian Nations (Asean) summit in the Philippines, the trip also includes a visit to Asian ally South Korea.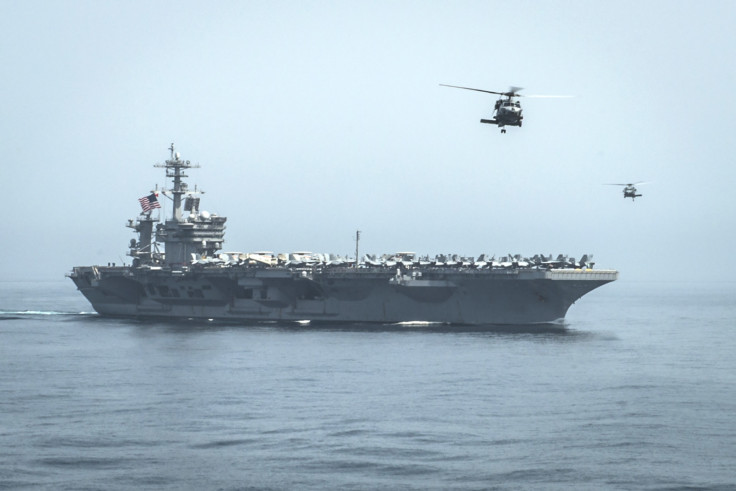 The US president is expected to urge its allies to increase pressure on North Korea to denuclearise, the Japan Times wrote.
According to a White House announcement on Tuesday (24 October), Trump will return to the country on 14 November following his 12-day trip and he will skip the East Asia Summit scheduled a day after the Asean summit.