Thousands of Germany-based supporters of embattled Turkish President Recep Tayyip Erdoğan are holding a rally in the city of Cologne. Germany is home to the largest Turkish diaspora with three million residents in the country having Turkish ancestry.
And the North Rhine-Westphalia state, where Cologne is located, is home to about 1m of Germany's Turkish community. The rally was organised by pro-Erdoğan group the Union of European-Turkish Democrats and so far an estimated 20,000 people have attended the march, which could rise to 50,000.
Despite a heavy police presence amid concerns several counter-demonstrations, one by far right activists, the rally has been peaceful. One such demonstration, called "Stop Erdoğan", saw about 2,700 officers deployed in the city.
Cologne's police chief, Jürgen Mathies, said to the Guardian: "One thing I want to make clear is that we will intervene against any kind of violence quickly, decisively and forcefully."
Around 1.5 million people in Germany can still vote in Turkish elections and Erdoğan's Justice and Development party (AKP) won 60% of their vote in last November's election.
Since the attempted coup on 15 July, Erdoğan's government has launched a widespread crackdown on those he holds responsible. The world watched as a military group commandeered tanks, helicopters and warplanes whilst storming the offices of state media in the attempted putsch.
Authorities say 237 people were killed and more than 2,100 wounded during the attempted takeover. Those arrested includes 1,700 military personnel, who include top generals and admirals, were dishonourably discharged.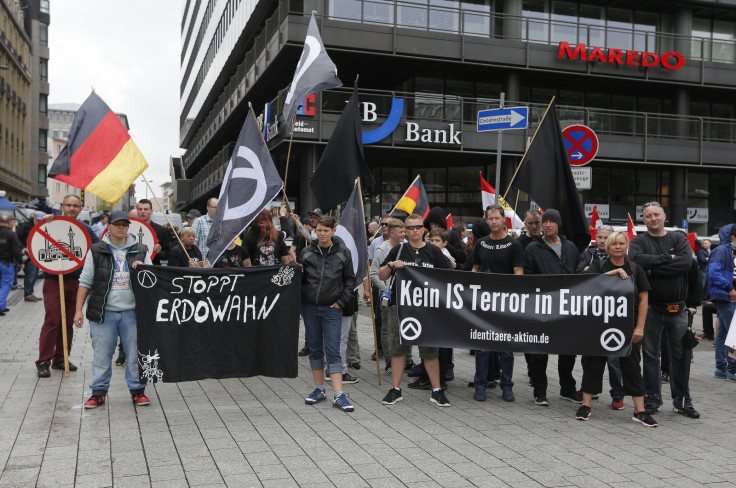 Many of the military detained were suspected of having links to exiled cleric Fethullah Gülen and his Hizmet movement. And suspicions have fallen on another 66,000 public sector workers have been suspended and sacked from jobs including about 43,000 people in education, Anadolu reported on Friday 29 July.
On 30 July, Erdoğan condemned Western countries for failing to show solidarity with his country over the failed recent coup, while at the same time withdrawing lawsuits against hundreds of countrymen charged with insulting him. He also announced that he planned to introduce constitutional changes to bring the Turkish spy agency and military chief of staff directly under his control.