Are Hizmet-linked schools in Nigeria recruiting terrorists to attack Turkey?
Turkey accuses schools linked to US-based cleric Fethullah Gulen of promoting terrorism.
The Turkish government has asked Nigeria to close 17 Islamic schools linked to US-based cleric Fethullah Gulen, accused of being behind a 15 July failed coup d'etat in Turkey. Hakan Cakil, the Turkish ambassador to Nigeria, alleged the schools were part of the Islamic religious and social movement, known as Hizmet, that allegedly aim to overthrow the Turkish government, headed by President Recep Tayyip Erdoğan.
"All the schools in Nigeria belong to the Gulen movement and not the Turkish government. They are using the schools to recruit followers for terrorism. This is threatening the peace in our country as they are using funds they are generating in Nigeria for terrorism," Cakil alleged, according to the Daily Trust website.
"Gulen is a terrorist organization using rhetoric of dialogue, peace and partnership to deceive people. It is being presented as a kind of Muslim missionary but they are abusing the religion.They misled the public by putting Turkey in the name of their school. We don't have schools in Nigeria, we have in other countries but not in Nigeria," he continued.
In response to Cakil's claims, Nigerian senator Shehu Sani urged the federal government to investigate the allegations. "The resistance of the Turks and mass protests that trailed the coup has become a source of inspiration to other countries to stand up and defend democracy whenever it is facing threats," he said.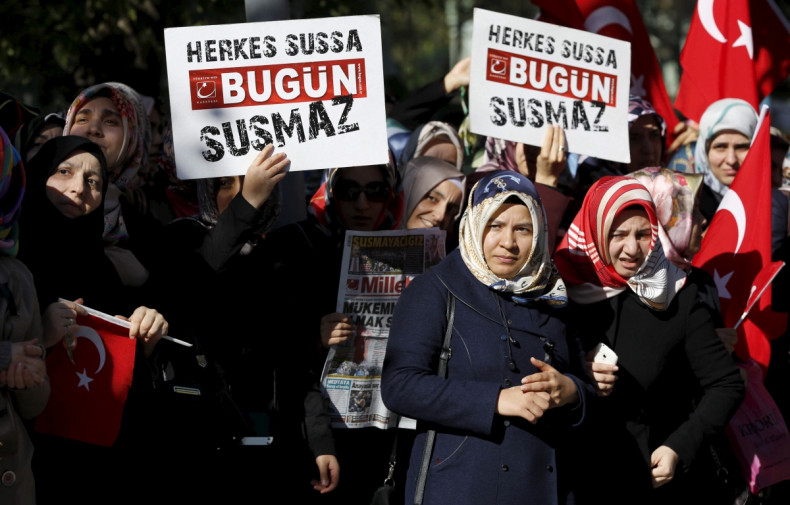 Case 'impossible to make'
The Gulen movement, which has private schools and universities in more than 180 countries, was originally on good terms with Ergogan's Justice and Development Party (AKP) party, as both groups advocated a moderate version of Islam.
However, AKP later labelled Hizmet as a terrorist organisation and accused its members of trying to infiltrate the state to overthrow the government. Gulan, who leads Hizmet from exile, has denied any involvement in the July failed coup. However, at least 60,000 of his supporters have been suspended, fired or arrested in Turkey since then.
David Otto, CEO of global security provider TGS Intelligence Consultants, believes that the antagonism between the Turkish government and Himzet explains the allegations made by Cakil. However, he told IBTimes UK it will be hard to confirm such claims given the popularity of the Gulen movement across the world and Turkey's lack of evidence that the movement is linked to terrorism.
"Hizmet, which has schools in more than 50 African countries, has a strategy of sustainable loyalty through a powerful long-established network of people and organisations, not just within Turkey," Otto explained.
"In most of their schools, they pay full scholarships, give financial assistance, provide free accommodation, network , medical facilities, employment and above all promote the Islamic way of life. These services promote loyalty amongst benefactors who are then indirectly obliged to be loyal to the movement.
"At the moment, there is no credible evidence that Hizmet is recruiting potential terrorists in its schools or other known establishments. Erdogan is worried that one day Hizmet will be responsible for his downfall and sees Gullen as a personal battle, but he wants the world to see it as a global threat to global peace. A case impossible to make without real evidence," Otto said.
---
Nigeria up close: Check out our Flipboard magazine
---